At the Water Hygiene Centre, we take pride in our team of Senior Consultants who are experts in delivering Authorising Engineer (Water) services to our valued clients. With their diverse skillsets and wealth of experience, they work collaboratively to share their knowledge and insights.


A collaborative approach to delivering excellence

We believe in the power of collaboration and continuous improvement. Our team of experienced Senior Consultants come together every month for our "AE Hive Mind" sessions. During these sessions, we review our service methods, address individual client needs (especially those with specific issues), and stay up to date on the latest technical and industry developments.
Diverse expertise for comprehensive solutions

Our collective team of AE(W)s brings a diverse range of professional and technical backgrounds to the table. With expertise in risk management, project management, building services, estate management, and chemistry, we can provide a comprehensive range of services that cater to all aspects of water hygiene management.



Decades of combined experience
When you choose the Water Hygiene Centre as your water hygiene partner, you benefit from the wealth of knowledge and experience offered by our senior consultants. With a combined experience totaling over 110 years, our team has encountered and successfully resolved a wide range of challenges in the field.
A team you can rely on

Our team of Senior Consultants are more than a single point of contact; the Water Hygiene Centre is a collective of experienced professionals. This ensures that you have the support and expertise of a whole team, rather than relying on just one individual. A collective approach to troubleshooting from people with various backgrounds is fundamental to a well-rounded response and guidance perspective.
Continued support and peace of mind

We understand that there may be times when your designated AE(W) is unavailable due to annual leave, sickness, or other client commitments. In such cases, we have you covered. With our team of AE(W)s, we can provide seamless support to ensure that your water safety requirements are always met.
Client satisfaction is our priority
Each of our consultants is regularly put through a rigorous performance evaluation and audit, ensuring that they meet the highest standards of quality and compliance. With our Head of Compliance personally overseeing projects and implementing site visits with senior consultants, we ensure excellence in every aspect.
Another way we measure the quality of our services is through Client Satisfaction Certificates (feedback forms), completed by our clients. These help us to constantly measure, monitor, and where necessary, improve our services. We are happy to report that we have consistently achieved our set target. Constant improvement is our mantra.
Examples of feedback provided by our Authorising Engineer (Water) clients: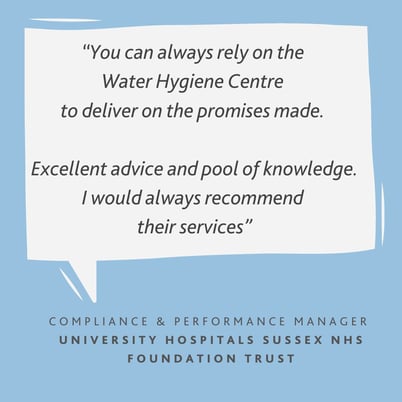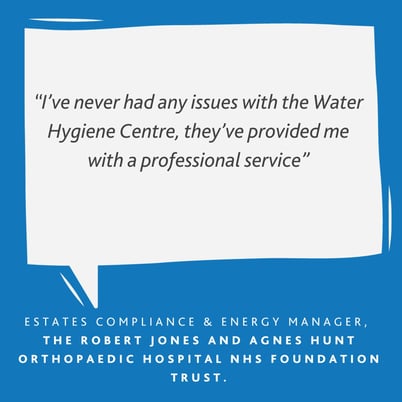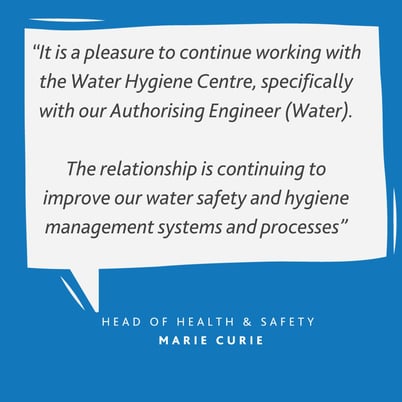 Examples of services provided by our Senior Consultants include:
Incident Investigation into re-occurring positive Legionella samples in a Cancer Centre. The investigation highlighted inadequate flushing regimes and incorrect location of biocide injection





Led and advised on establishing structured water safety management systems, this required revision of policy, water safety plan, commissioning new risk assessments, updating record-keeping system, training needs analysis, and the associated delivery of appropriate training. This work was completed within a 6-month time frame and resulted in the lifting of two HSE improvement notices.





Assisted with the management of overarching water safety risks. An initial audit confirmed that each directorate had individual and conflicting approaches and systems for water safety risk management. Post the initial audit, saw the development of an organisational policy, water safety plan, logbooks, further auditing, and training plan provision. These actions were key in the re-alignment of each of the directorates within the organisation to enable them to proactively move forward.





Reviewed plans for a proposed new healthcare facility, looking at the specifications and proposed installation drawings. Feedback given to the client on specification and advising on alternative distribution arrangements e.g look to avoid heat gain within the modular build of the cold water systems. Support was extended to reviewing and making recommendations to contractor commissioning, sampling, and handover plans.





Audit of a Housing Association to establish the degree of compliance. The audit concluded very few control measures existed and a contractor with a vested interest had led the organisation.





Lead a Water Safety Group, overseeing the specially appointed contractors/service providers (including their competency), managing the Legionella risk assessment and re-assessment program for properties including the implementation of the associated risk minimisation schemes.




Regularly providing Legionella training courses to a wide variety of audience types; including Directors, Responsible Persons, Senior and Middle Management, Authorised Persons and Competent Persons.


If you have questions regarding the issues raised above or you would like to speak with one of our consultants, please click here to get in touch.