Course Overview
Our Responsible Persons course deals with the legal and management aspects of water safety and is accredited with CPD and recognised by ILM, part of the City & Guilds Group.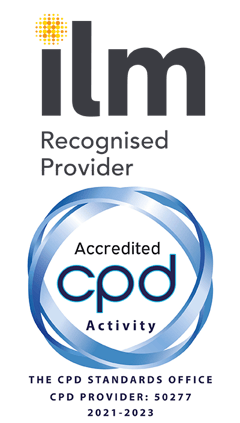 The term 'water safety' is a broad capture for risks associated from Legionnaires' disease / Scalding / Pseudomonas aeruginosa [Pa]. The approach to managing these risks will depend on the type of organisation and the types of water risk systems and susceptibility of those who are exposed.


A control strategy for managing the risk of waterborne pathogens is to use temperature control for water. Hot water storage temperatures required being 60OC. As a result of the temperature control being applied this now creates a scald risk for those at particular risk [very young, very elderly, infirm or significantly mentally or physically disabled people or those with sensory loss]. The risk of managing waterborne pathogens with temperature control now creates additional risk that needs to be considered, the risk of scalding from the hot water.


It is the duty of the Water Safety Group [WSG], including the Responsible Person [Water] to ensure their organisation complies with regulatory, legislative and guidance requirements for the management of water safety.


This course will provide the WSG and RP with an understanding of these water safety risks, the course covers ACOP L8 and HTM04-01 guidance to ensure proactive management is established, overlaid with BS8680 code of practice for Water Safety Plan [WSP], covering the elements of what a WSP may need to contain and how to develop a WSP.


Topics covered on the course will include:
Background to Legionella / Scalding / Pseudomonas aeruginosa

Susceptibilities

Proven and frequent sources of Legionnaires' disease and Pseudomonas aeruginosa

Ecology of waterborne pathogens

Control strategies for managing water safety risk

Understanding law, regulations and guidance including:
- Health & Safety at Work Act 1974
- Health & Social Care Act 2008
- MHSWR
- COSHH
- RIDDOR
- Water Regs
- HSE's ACoP (L8),
- HSG Parts 1, 2 & 3
- HTM 04-01 & SHTM 04-01

Best Practice

Prosecutions examples and lessons learnt

Development of a Water Safety Plan

Challenges facing organisations
Click here for a full course overview
Course Details:
Classroom

Online

Delivery Method:

Face to Face

Microsoft Teams

Duration:

Full Day

Full Day

Cost:

£425 + Vat

£350 + Vat

Additional Info:

Lunch & Refreshments included

N/A

Payment Method:

Credit / Debit Cards




Assessment:

Course includes a marked assessment, measuring the delegates understanding of the course topics. There is no pass / fail mark;




Certificate:




Certificates will be issued once assessment has been marked and verified.




The cost above includes the price of a certificate from ILM, who are part of the City & Guilds Group.



Course Cancellations & Refunds
You may cancel your course and receive a full refund within 14 calendar days (cancellation period) prior to the date on which the course is to commence. Cancellations after 14 days will be liable for the full amount.


Equality of Access
The Water Hygiene Centre ensures that training course venues are accessible to all delegates. We encourage delegates to contact us in the case that they may require any additional support such as specialist training material or tutelage needs, so we can ensure no conditions hinder the participation of training. If you require assistance, or have questions about the course please call our office on 01993 840400 or email office@waterhyginecentre.com and one of our staff members will be ready to help you.


COVID-19
With the outbreak of a Coronavirus (COVID-19), the Water Hygiene Centre will follow government guidance on social gatherings and events. Where we are unable to proceed with originally planned training your course will be postponed and all delegates will be offered a new date.
Read our article on "The importance of legionella training" with everything you need to know about what training you need and how to do it >