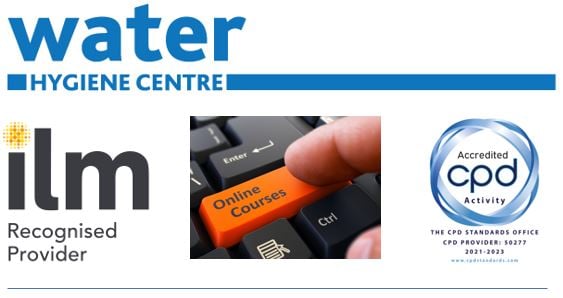 We have some exciting news to share with you about our Responsible, Authorised and Authorised Person [Design] training courses.
Over the past few months, the team have been working really hard behind the scenes to finalise our recognition with ILM [a City & Guilds Group Business] and accreditation with CPD.
This means that our Responsible and Authorised Persons training not only provides you with expert advice and guidance on Legionella and water hygiene. But you will also gain 8 CPD points, and a nice shiny Water Hygiene Centre, CPD and ILM certificate*.
By achieving the CPD accreditation we have been identified as offering a high level of positive learning opportunities.
Alongside this, the 'ILM Recognised' stamp of approval will assure delegates that our training will provide them with peace of mind and confidence and is in the same league as ILM's renowned world-class standards.
And if you're not quite sure when your training is due please feel free to complete our FREE Training Needs Review Tool, you can do that HERE. This training review tool simply allows you to keep track of your team's training records and easily helps you to identify when training has expired and requires refreshing.
Other useful training articles:
If you require any advice on water hygiene safety management please contact us or subscribe to our blogs and articles for further information.
*Written Assessments are included for each course. Certificates are awarded once assessment papers have been completed, marked, and verified.