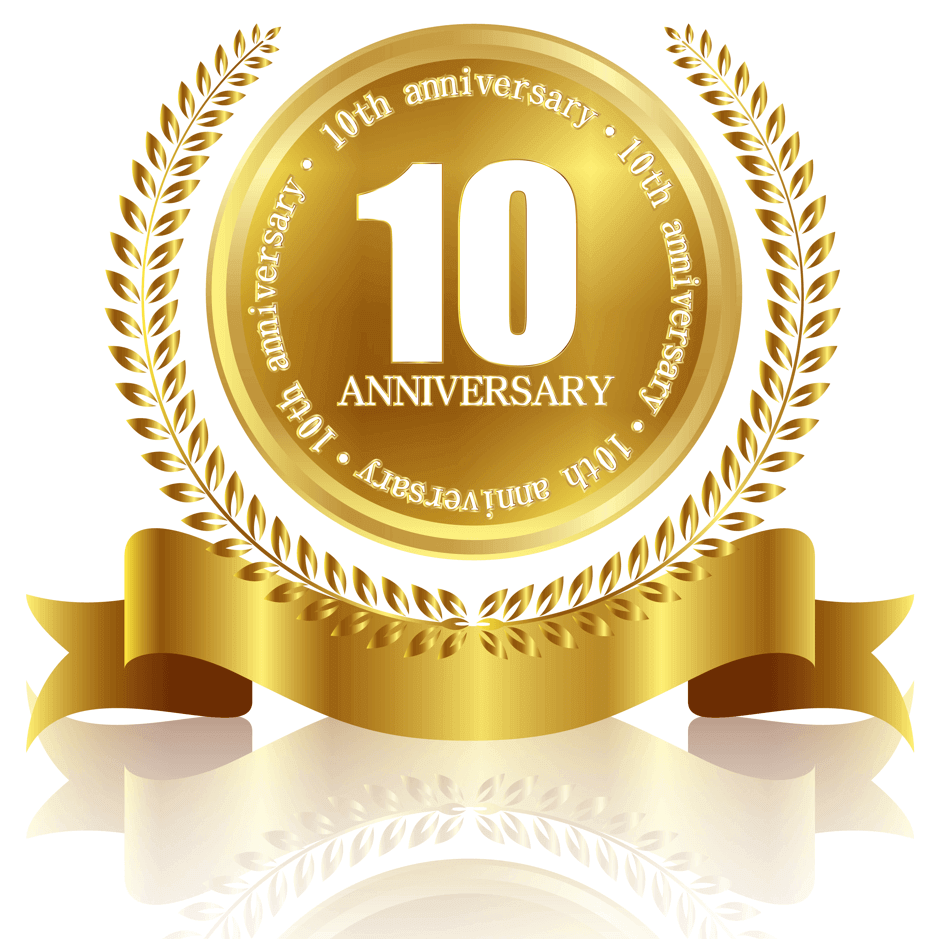 The 9th February 2019 marks 10 years of operations for the Water Hygiene Centre!
Having reached this significant milestone, we'd like to say 'Thank You' to our clients for their belief and continued commitment in the team here at the Water Hygiene Centre.
First a few words from Daniel…
"I can't believe it is 10 years! Where has that time gone? Back in 2008 / 2009 the world economy was not in a great place, bank crashes and recession. So, I came up with the idea to start a business. Crazy huh! In the first week I spoke to six different organisations trying to introduce myself and the business, by the end of that week two of those organisations had placed orders for work. The other four organisations placed orders over the next few weeks. Today, we are still engaged with three of those organisations! It is fair to say the journey over the last 10 years has been exciting, hard work, challenging, frustrating, rewarding and at times emotional, but I wouldn't change any of that [even the grey hair]. The team are amazing [even if I do say so myself] they are committed, engaging and dynamic all of which have the interests of the client and business as their focus. Our clients [old and new] have helped shape the business and the services we offer. Thank you and thank you again to all. It's time to buckle up and start on the next ten years…."
New beginnings
Working on garden furniture and the floor as filing cabinet of an empty office block in Carterton is where Daniel started the Water Hygiene Centre. Within twelve months there were three members of staff and established relationships with several clients. We have come a long way since 2009 and have steadily grown and invested in professional, experienced and talented members staff. We now have three office locations – our head office which is set in the beautiful grounds of the idyllic Cornbury Park Estate, Oxfordshire and other offices in Nottingham and Hereford.
What have we achieved?
Over the last 10 years, the Water Hygiene Centre has been committed to not only driving improvement but delivering the highest quality services within the industry. The past decade has seen us achieve standards and memberships with bodies such as UKAS, BSI, the LCA and CHAS. Most notably, in 2015 we achieved UKAS accreditation for our Legionellosis risk assessments, and last year we finished our first 4-year cycle with UKAS, remaining one of only eleven organisations in the UK qualified to provide this service.

Back in 2009, social media was still relatively new, smart mobiles were evolving and blogs were becoming mainstream. We now have presence on Social Media including LinkedIn, Twitter and Facebook, and provide educational videos on YouTube offering advice and guidance on some of the practical steps you can take to ensure water safety, for example Legionella sampling and flushing of little used outlets.

In June 2017 we published our very first blog (The Importance of separating water safety risk assessments from remedial work in hospitals) since then we've established a great following with over 1000 subscribers. To date we've published over 70 technical water hygiene blogs containing advice & information from our Project Consultants and Authorising Engineers (Water). These blogs are free of charge to all subscribers and cover a variety of topics and industries relating to the management of water hygiene, here are a few of our most popular blogs:

- How to manage my little used outlet?
- Microbiology Made Easy, Part 1 – TVC's
- Legionella risk assessments for Hospitality & Leisure
- Deep down in the undergrowth of your garden' is there Legionella

Our risk assessments continue to evolve to meet the changing needs of our clients, by recently introducing a 'Total Care Assessment', incorporating Legionella, Engineering (Pseudomonas aeruginosa), Scalding and Schematic diagrams all rolled in to one service delivery ensuring total compliance whilst providing economies of scale.

We have also launched our popular Risk Assessment Review tool (available for free download), enabling users to manage and identify when their risk assessments need renewing. Since the HSE removed the two-year frequency for risk assessments, this simple to use tool allows you to cost effectively schedule and plan your risk assessments.

Each year the Water Hygiene Centre takes pride in supporting local and national charities. We've never sent Christmas cards, instead we've posted an online Christmas greeting to clients and made a donation to Charity. To date we've supported eighteen different charities and have donated over £6,000.


Our vision for the future
The environment is important to all of us all. The effects of global warming and the disappearance of Arctic sea ice to plastic waste, by 2050 our oceans will contain more plastic than fish in weight!!
For many years the Water Hygiene Centre has had an Environmental Policy minimising the businesses impact on the world we live in. In 2019 one of our mission's is to gain accreditation of our ISO.14001 Environmental Management System. Our journey has already started.... asking the milkman to delivery milk in glass milk bottles and ensuring cleaning products used within the offices do not contain palm oil.
Other commitments include the development of an online portal enabling clients to easily access their water safety documents in a secure collaborative environment.
We have trained over 6,000 delegates to date. Another commitment being accreditation of our training courses which we aim to achieve with ILM (Institute of leadership management) very shortly…..
And finally….
We are very grateful to our clients, who have put trust in us to help them comply with legislation and guidance for water safety. Their demands, challenges and feedback have pushed us to go forward and improve how we operate. We'd like the final word to go to our clients….


"Congratulations to the Water Hygiene Centre on their 10th anniversary and we value all the guidance and support you provide on water safety issues. Best wishes for another successful 10 years" Eddie Milne, Property Resources Manager, Moray Council


"Congratulations to the Water Hygiene Centre on their 10th anniversary, we appreciate your hard work and dedication, best wishes for another successful 10 years" David Fearn, Estates Manager, Derbyshire Community Health Services
"The Water Hygiene Centre has supported NHS Grampian with independent Water Safety Management services since 2009. During this time, I have been completely satisfied with the level of service and support provided by them, in particular the assistance and can-do attitude provided by Daniel Pitcher our Authorising Engineer (Water). I would recommend the Water Hygiene Centre to other companies without hesitation and look forward to continuing to work with them" Graham Mutch, Head of Maintenance, NHS Grampian
"Congratulations to the Water Hygiene Centre on their 10th Anniversary, I can't imagine life without you, here's to another 10 successful years" Rachel Johnston, Senior Maintenance Officer, Northampton Borough Council
"I wanted to take this opportunity to thank you and your team at the Water Hygiene Centre for the fantastic work you have done for us over the past 5 years. I have found in my personal experience with the Water Hygiene Centre that your team always deliver professionally and efficiently. In the past I have used many different risk assessment companies and they all make promises which they never keep. I would highly recommend the Water Hygiene Centre for any business that needs water safety guidance and risk assessments" Roger Berry, Estates Officer, NHS Property Services
"We have only worked with you since 2017 but in this short time I would happily recommend you to others looking for independent and professional training" David Hoare, M&E Compliance Manager, University of Bath
"At all times the independence of the Water Hygiene Centre ensures the advice given is objective and balanced. We are very satisfied and happy to be your client and are looking forward to continuing our relationship with you"
Claire Guise, Health & Safety Manager, Marie Curie
We would like to thank everyone who has been part of our success, we truly appreciate your support and we very much look forward to another successful ten years.
Editors Note: The information provided in this blog is correct at date of original publication - February 2019.
© Water Hygiene Centre 2019