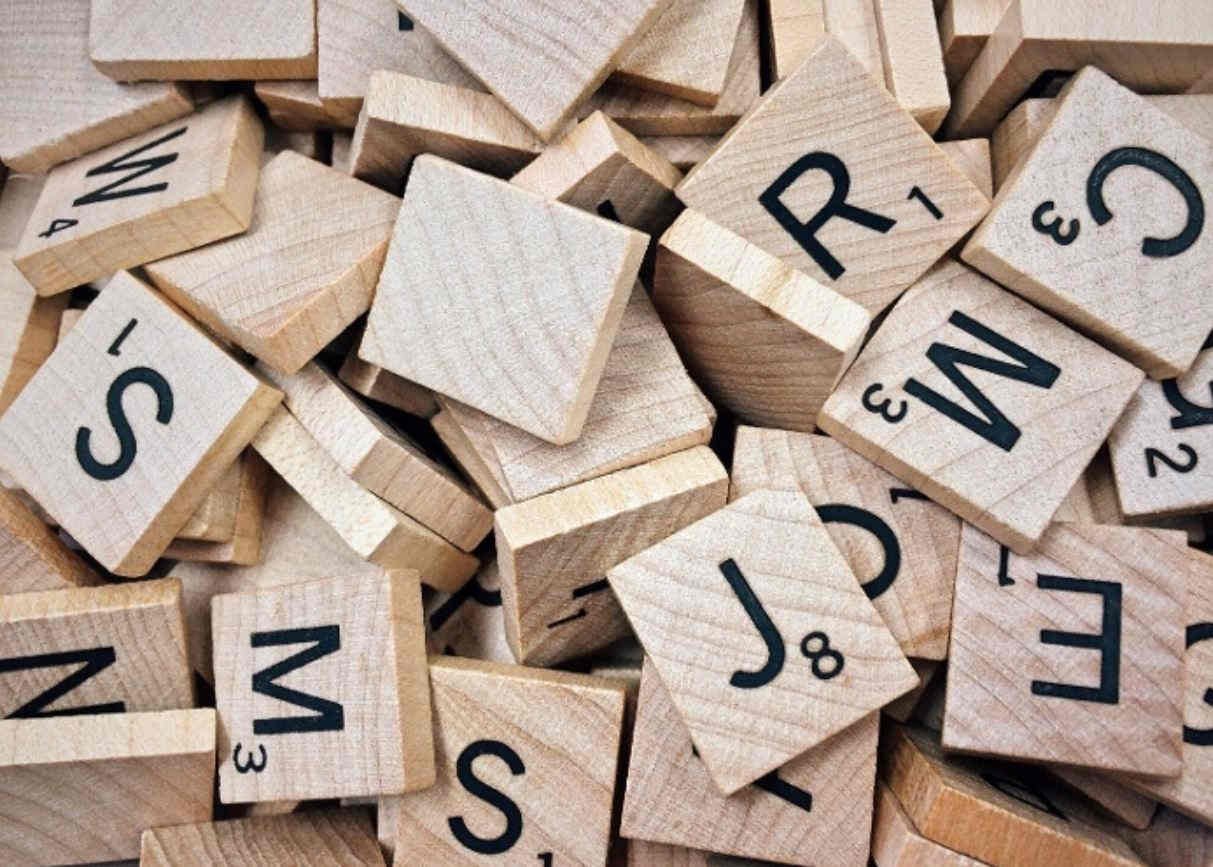 Jargon buster – phrases and acronyms such as 'WSP', 'Written Scheme', RP & AP and Water Safety Group, what do they all mean?
In this blog, we explain some of the more popular phrases and acronyms being used. To make this more fun, and to help test your knowledge, we've created a crossword containing terms used in this, and previous blogs, along with general industry terms.
Win a place on our Management & Technical Training
Simply, email us with your completed crossword, and you will be entered in to a draw for a chance to win a delegate place, on one of our upcoming Management Training - Role of the Responsible Person and Technical Training – Role of the Authorised Person!!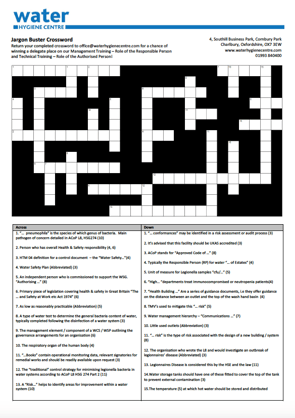 Win a place on our Management & Technical Training
Common Water Hygiene Terms
Water Safety Plan (WSP) and Written Control Scheme (WCS): these terms are often used interchangeably to describe a method of control that can be used to ensure the provision of safe water (including waterborne pathogens (legionella and Pseudomonas aeruginosa) and other water related risks i.e. temperature (scald)).
WSP & WCS are referenced in HSG274 Part 2 and WSP is referenced in the HTM 04-01. These respective guidance notes offer prescriptive assistance on how to comply with all aspects of water management, such as; management policy, risk assessment and schematics, operational procedures and logbooks. WSP is a term used primarily in the health care sector although this does not preclude any organisation from adopting the term when developing their control documentation.
WCS acts as an operational guide on the control measures necessary to ensure the correct operation of a water system. The objective being once the risk of legionella has been identified and assessed then measures are implemented which do not allow the proliferation of legionella bacteria in the system. Those systems being specific to the systems identified within the risk assessment. The WCS can include the following details:
Management Structure – a defined 'communications pathway' for all involved in the control regime (i.e. Responsible Person (RP), Authorised Person (AP), independent Authorising Engineer Water (AEW)) their roles and duties;
Risk assessment – need, specification and review criteria;
Schematic drawing – to be up to date, shows the layout of the system within and around the premises, all outlets, all pipe routes, storage header tanks and domestic hot water generators including relevant items of plant;
Define correct and safe operation of each water risk system;
Precautions and actions to be taken to prevent and minimise the risk associated with each risk system;
Details of tests and checks – operational / performance checks including their frequency and acceptable control parameters, microbiological testing (TVC, Legionella, Pseudomonas aeruginosa) including their frequency, methodology and control parameters;
Remedial actions – when a water risk system is identified as being out of control, this details the actions to be taken to return the system to control;
Incident planning – such occurrences as loss of mains water, loss of control i.e. temperature control, repeated high counts of legionella, an outbreak of legionellosis [confirmed at site and source yet to be confirmed].
Those organisations with existing robust water management arrangements in place will have much of the WSP established. That said, the WSP essentially includes the above elements / components of WCS although the HTM04-01 includes additional details:
Content of WSP will depend on size and complexity of the water system/s;
Governance Arrangements – WSG (Water Safety Group) membership, remit, terms of reference (ToR), training competency for all staff levels of those involved in the control regime;
It is a living document kept under review by the WSG;
Cross referenced with the healthcare organisation's security management strategy and business continuity plan;
Clinical / engineering and bacterial risk assessments are completed to identify those who are significantly at risk and the type of water risk systems that exist;
Water Safety Group (WSG): the WSP details the WSG, which is a multidisciplinary group. Group members will often represent; estates, infection control, microbiology, hotel services, health and safety and projects & design, so that both clinical and non-clinical concerns are suitably addressed – which in turn support a well balanced approach to water safety. The WSG with support from the appointed AE(W) will also collectively agree upon content of the WSP, which will be informed by those risk assessments to aid the WSG appropriateness and suitability of the contents. The outcome of those risk assessments should be suitably quantified and any recommendations should be reviewed by the WSG to ensure agreed deadlines remain on schedule.
WSG members need to have their roles and responsibilities relevant to an individual's position within the organisation defined within the WCS / WSP along with a Communications Pathway showing the hierarchy of management control. For example, the Duty Holder (DH) would typically be the Chief Executive, the Designated Person (DP) would normally hold a directorship (not necessarily water related…could be the Finance Director) and the Head of Estates may be the Responsible Person (RP). Whilst the majority of legal responsibility resides with the DH, management and operational responsibility is often devolved to the RP. The RP is then supported by an Authorised Person/s (AP) – who are competent to execute the daily operational control of the water risk systems, as defined in the WSP.
Auditing: a continuous process – typically completed in partnership with an independent AE(W) to evaluate the performance of the WSG and to ensure the WCS / WSP are being implemented appropriately.
In summary many different and similar phrases and acronyms are used. The guidance documents define these phrases and acronyms. In this blog we've taken these and explained them further and highlighted the differences between various types of organisations.
Editors Note: The information provided in this blog is correct at date of original publication - January 2018.
© Water Hygiene Centre 2019