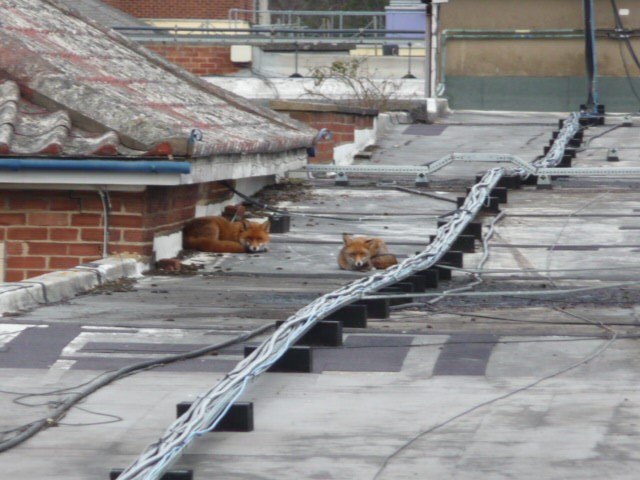 Our Legionella Risk Assessors travel the length and breadth of the British Isles, from the Shetland Islands in the north, to the Channel Islands in the south. They also get to visit a wide range of properties, from the smallest solitary standpipe to the largest hospitals.
What is also interesting and slightly different from the usual, is the sights they see whilst there, in this case, those living (and dead) creatures we didn't plan to meet!
As a light-hearted blog, we will share stories about furry friends we have come across on our travels, but also discuss the dangers they may represent, particularly to our water systems.
Whereas many livings things (including us!) can represent a contamination risk to our water system, some animals quite simply like to represent a health and safety risk. Any Risk Assessor or maintenance
personnel lucky enough to inspect cold water storage on a building rooftop near open water, would have had an encounter with a feathered friend. Access to plant rooms can be simply denied by a bird protecting their young or birds nesting in said plant room can lead to contamination issues.
Nesting birds in plant rooms cause all sorts of problems, feathers and faeces are found all over cistern lids (as seen in this photo), and more often than not, whatever is on the top of the cistern, is usually found inside it.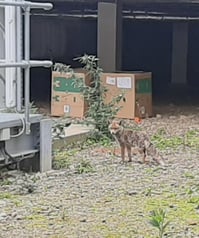 Sticking with the roof theme, other animals have been found patrolling this area. Some of our staff have encountered foxes that require negotiation in accessing roof top plant rooms (see photo). Although not an obvious risk to a domestic water system, they sure have given our staff, including our Managing Director a fright.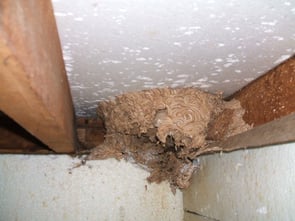 Cold water cisterns represent a high inherent risk to water quality, due to their location, contamination, and amplification potential. They also seem to be more prone to animal contact than most other water systems, in the case here (see photo), a wasp nest was found inside a cold water storage cistern housing on top of a flat roofed accommodation block. This created a seen of panic after opening the housing lid, resulting in a dangerous hasty escape via a cherry picker, once again, a serious health and safety risk.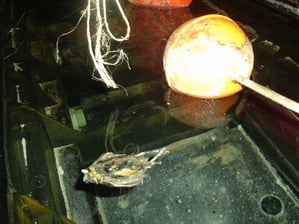 As mentioned above, what is found on top or around a cold water storage cistern tends to find itself inside it. Many stories including insects, spiders and even snakes have been told, but photographed below is an example of a bird coming to an untimely end inside a cold water storage cistern.
Finding such things is thankfully unusual, but they do represent a serious health risk. Dead animals such as birds, can introduce bacteria such as e-coli, coliforms, and salmonella, as well as fungi, such as Cryptococcus. These would lead to serious illness for anyone exposed, but more deadly to the immunocompromised population. Other bacteria such as Legionella, already lurking in the water system, would find this a veritable feast for which to thrive. Risks such as this are dealt with in swimming pools and water fountains through continuous disinfection, but domestic water, which does not receive disinfection, may be exposed to this danger until the problem is found, and how often is a cold water storage cistern inspected?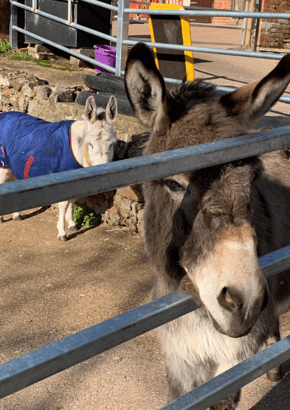 More positive experiences come when the animal in question is meant to be there. Animal farms and sanctuaries care for our furry friends instead of labelling them as a pest. They do however, present a risk of contamination to water systems via drinking troughs, but can in turn be exposed to the risks water systems present.
Did you know donkeys drink warm water? Therefore, are exposed to water temperatures perfect for bacterial growth, which can impact the quality of water upstream that we are exposed to. This risk of blended water should be managed appropriately.
Animals encountered during site visits always create interesting and 'fun' conversation back in the office, but as evidenced, can create both direct and indirect health risks.
They can hinder access, physically threaten, and present contamination to a water system. In each instance, these risks are always reported with high importance and priority by our Legionella Risk Assessors, which should be dealt with immediately.
If you have questions regarding the issues raised above or you would like to speak with one of our consultants, please click here to get in touch.
Editor's Note: The information provided in this blog is correct at date of original publication – August 2021.
© Water Hygiene Centre 2021