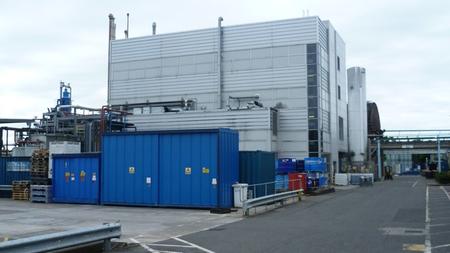 MacFarlan Smith's plant on Wheatfield Road | Image credit: ©kim traynor (cc-by-sa/2.0)
This blog outlines what occurred and what is happening regarding Legionella news. A useful reminder on how important it is to have suitable and sufficient water management risk systems in place.
Five firms charged after Legionnaires' Disease Outbreak - In the summer of 2012 an outbreak of Legionnaires' disease in Edinburgh resulted in 56 confirmed cases and 36 suspected cases of the disease and 4 fatalities. The outbreak was centred on Wheatfield Road in Gorgie, west of the city centre, and an area where a number of industrial plants are located in close proximity to densely populated residential properties.
The investigation that followed the outbreak did not identify the source of the outbreak, however, it has been suggested that it may have been the cluster of cooling towers at the industrial site on Wheatfield Road. There were no prosecutions in relation to the fatalities due to a lack of evidence and in May last year the Crown Office announced there would be no fatal accident inquiry (FAI).
Learn more about Legionella Risk Assessments and Legionella cases in the news >
The Health & Safety Executive (HSE) imposed three improvement notices in June 2012 relating to the operation and maintenance of cooling towers on two organisations during the investigation, including Macfarlane Smith and North British Distillery. The City of Edinburgh Council issued a fourth improvement notice on the National Museum of Scotland requiring them to ensure that key staff were appropriately trained in the safe management of water systems.
The latest legionella news is that in December 2017 it was announced that five companies would be charged with alleged breaches of health & safety legislation in relation to the maintenance and cleaning of cooling towers. The trial is expected to take 12-weeks but a date has not yet been confirmed.
It remains to be seen whether the prosecution will be successful but cases such as this reiterate the employer's liability under Section 3 of the Health & Safety at Work etc. Act 1974. Employers have a duty to ensure that employees and others are not exposed to risks and it is sufficient for the prosecution to prove only that there was the possibility of danger [R v. Board of Trustees of the Science Museum (1993)].
Duty holders should be able to demonstrate through appropriate documentation and records that they have clearly assigned managerial responsibilities, assessed the risks, defined and implemented the required controls and monitored those controls to demonstrate their effectiveness.
Editors Note: The information provided in this blog is correct at date of original publication - February 2018.
© Water Hygiene Centre 2019