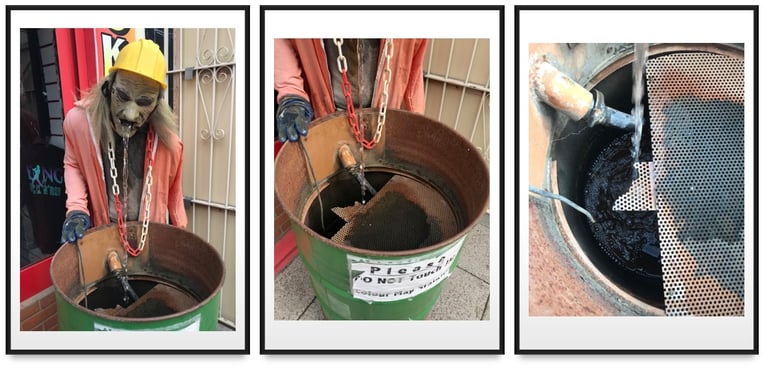 Happy Halloween, I hope you have your sweets ready, your costumes donned…and your spooky water features scrubbed and clean! Social events throughout the year are great excuses to put on a show and enjoy ourselves, no more so than Halloween.
As with all domestic water systems such as showers, tanks, sinks, hot water generators and air conditioning systems, fun displays which include a water feature also need to be risk assessed to reduce the growth of harmful microorganisms such as legionella.
According to "HSG 274 Part 3: The control of legionella bacteria in other risk systems", any water feature may be in danger of contaminating the public with Legionellosis if it has a combination of these 6 factors:


The presence of legionella bacteria in the system water, either introduced via the water supply and/or via external contamination;


Conditions, suitable for colonisation and multiplication of the bacteria, for example, the water temperature in all or some parts of the system may be between 20 - 45°C;


Where water is stored or recirculated;


Deposits and materials that are a source of nutrients for the organism and support bacterial growth, such as contaminants from the surroundings or process including rust, sludge, scale, organic matter and biofilms;


A means of creating and spreading breathable droplets (aerosols);


The presence of susceptible people who may be exposed to those aerosols.
Before this guidance was published, HSE employees Sykes and Brazier wrote a paper describing these conditions in a simpler manner. If you had a water system or a feature (i.e. a fountain) that had heavily contaminated water, a means of dissemination and a potential victim i.e. member of public, then you had to complete a risk assessment.

If this is the case for your spooky water feature, haunted whirlpool or ghostly sprinkler system, then there is a duty of care to carry out a risk assessment. Risk assessments can be complex, and they should be undertaken by an experienced and competent risk assessor. If there is no risk assessment for a water risk system, you may be unknowingly putting your employees or the public at risk. And what's scarier than Halloween? Possibly a hefty fine from the HSE, or a court Judge perhaps?


The risk assessment may show there is a risk from legionella, if this is the case then the HSG guidance states that you should:
Consider if the system can be replaced with a dry system. Where this is not practicable, draw up and put in place a written scheme of measures to prevent or control the risk of exposure to the bacteria – the extent and complexity of the written scheme will be dictated by the level of risk;


Monitor any control measures and keep records of the results;


Record the significant findings of the risk assessment and keep appropriate records, with an indication of when to review the assessment and what to consider;


Review the assessment regularly to see whether circumstances that could alter the risk have changed;


Review the written scheme if the level of risk changes; ensure that those people involved in controlling the risks (including any contractors) are competent to do so and that their roles, responsibilities and reporting lines are clearly set down.
While risk assessments may sometimes seem to be coming at us from all angles across all industries, they are the corner stones of your management system. You first need to know what systems you have and what their risks are before you can attempt to successfully manage them.
So to avoid getting pelted with eggs this Halloween by disgruntled and health conscious youths, make sure you have taken some time to think about your water feature and the risks it may pose…
If you have questions regarding the issues raised above or you would like to speak with one of our consultants please click here to get in touch.
Editors Note: The information provided in this blog is correct at date of original publication - October 2019.
© Water Hygiene Centre 2019