Having started my working career site engineering in the wind and rain of construction sites across the North of England in the late 1980's, it's true to say the potential risks from bacteria of any sort, let alone Legionella and other waterborne bacteria were not foremost in my mind.
The Health & Safety Executive [HSE] however, make clear 'work involving water or old / poorly maintained water systems might expose construction workers to Legionella'.
The recently issued 'BS8680:2020 Water quality — Water safety plans— Code of Practice' goes much further in establishing the many aspects that require consideration during the construction and other phases of a project, and how each phase is interdependent upon one another.

The Contractor
Principal contractors are typically required to plan, manage and coordinate construction work and during the construction period of any project, including installation and commissioning of projects, the responsibility lies with the contractors as defined in the Construction (Design and Management) Regulations 2015.
However, how many of these contractors would be aware that:
Those involved in the construction and installation should be competent and have received legionella training so that they are fully aware of the risk associated with their actions on water safety;
When planning a new build or major refurbishments during the design, construction, commissioning and pre-handover phases of the system, the water or Legionella risk assessment [RA] should be reviewed and updated at each stage with the client's Responsible Person / Water Safety Group and recommendations reviewed and addressed;
Following the agreed commissioning brief is critical to ensuring the system remains safe and additional costs are not incurred for the life cycle of the system, i.e. If systems are filled too early or with water that does not meet the specified water quality standards, it can result in long-term and harmful consequences, including the development of microbial biofilms which could lead to infections and death of those who might be exposed.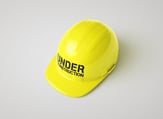 BS8680 specifically identifies how all those involved on a construction project including within the deconstruction, construction and installation, commissioning, decommissioning, recommissioning, alteration and refurbishment and other phases of projects must act responsibly, coherently and in accordance with relevant guidance and regulations to minimise bacterial proliferation.
Risk Factors
A study published 24 March 2020 in the US based International Journal of Environmental Research and Public Health 'Water Management for Construction Evidence for Risk Characterization…' indicated "Construction activities are a known risk contributing to the growth and spread of waterborne pathogens in building water systems. […]. From 1965 to 2016, a total of 894 disease cases inclusive of 112 deaths were associated with nine construction activity risk factors and waterborne pathogens [including Legionella]. The study findings support the need for building owners, water management teams and public health professionals to address construction activity risk factors and the analysis of current knowledge deficiencies within the scope of an ongoing water management program. The impact of construction activities on waterborne disease is preventable and should no longer be considered incidental nor accidental." Moreover, the study indicates the following causal reasons in specific outbreaks: demolition, re-pressurisation, commissioning at building opening, water efficiency challenges, excavation, underground utility connections, water main issues, and vibration and construction equipment using water.
If we return to the UK, the HSE indicate 'What you must do – is follow the Assess, Control and Review model' paying particular attention to the following:


Assess
Identify and assess – The risk of being exposed to Legionella is mainly during refurbishment and demolition work. The risks are linked to:
water stored or stagnating and re-circulated at temperatures between 20-45°C;
sources of nutrients such as rust, sludge, scale and organic matter;
production of contaminated water droplets / aerosol spray;
workers, visitors etc. who are more susceptible to infection due to age, illness, a weakened immune system etc.


Control
Prevent – Think about limiting the risks before work starts:
drain water systems during demolition or refurbishment where possible. This prevents water stagnation;
water outlets (taps, shower heads, etc) which are still needed but not regularly used should be flushed through regularly;
treat water to either kill Legionella (and other microorganisms) or limit their ability to grow where appropriate – consider suitable biocides and other water treatment processes;
ensure stored water is maintained either below 20°C or, if part of a hot water system, above 60°C – replace standing / stored water in tanks, pressurised water bottles etc. regularly during warmer weather where it is likely to reach temperatures higher than 20°C.


Control where there is still reason to suspect a Legionella risk:
Water – keep any system and the water in it clean. Ensure the water cannot stagnate – properly control the release of any water spray.


Review

Supervise – Be aware of anyone suffering from the symptoms of Legionnaires' disease.
https://www.hse.gov.uk/construction/healthrisks/hazardous-substances/harmful-micro-organisms/legionella.htm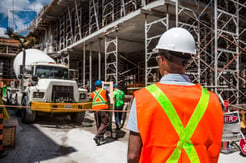 Although it is accepted that construction projects are fraught with inherent difficulties, including the management of a multitude of health and safety issues, the need for systematic water safety management remains an important and potentially overlooked issue. That said, those contractors and designers involved in the strategic and operational aspects of construction projects, now have much more prescriptive advice and guidance documentation to work with.
If you have questions regarding the issues raised above or you would like to speak with one of our consultants please click here to get in touch.
Editor's Note: The information provided in this blog is correct at date of original publication – August 2020.
Image by Borko Manigoda from Pixabay
© Water Hygiene Centre 2020