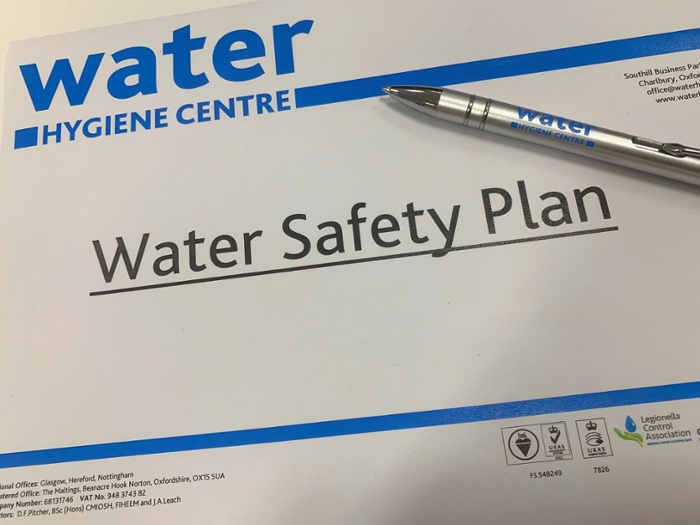 The requirement to identify and evaluate risks is embedded in UK health & safety regulations.
Where there is deemed to be a foreseeable risk in regards to bacterial proliferation, a legionella risk assessment must be carried out by a suitable independent body, for the purpose of determining the risk to the users of the building in regards to potential harm from water-borne pathogens.
Legionella Risk assessments are the bedrock of successful health & safety management.
They tell you what your risks are, where they are, whom they affect and how severe they are. By failing to complete a risk assessment you could be placing the users of your building at risk of harm. If they are inspected or investigated by an enforcing authority they are likely to receive an enforcement notice or may even face prosecution.


Your Legionella risk assessment should be undertaken by a suitably qualified person and adhere to the standards detailed in BS8580, with the company providing the service ideally UKAS ISO 17020 accredited. The responsible person under the authority of the duty holder shall ensure the risk assessment is updated regularly and reviewed often, and is treated as a 'living document' not just left on the shelf.

World Health Organization (WHO)
A reliable supply of good quality, wholesome water that is free from microbial contamination and supplied to its point of use at temperatures fit for purpose is critical for the well-being of the users of healthcare sites. The control of water quality is a continuing responsibility and best practice frameworks should be put into place to ensure that water quality is maintained.


The concept of a holistic approach to the safety of water systems in buildings and water supply networks was widely promoted by the World Health Organization (WHO) as early as 2004, in the third edition of their publication "Guidelines for Drinking-Water Quality" with the development of the framework for drinking-water". The idea was further discussed in "Water Safety Plans – Managing Drinking-Water Quality from Catchment to Consumer" (2005)


What is a Water Safety Plan?
The WHO reinforced this concept in 2007, with the publication of their Legionella guidance "Legionella and the Prevention of Legionellosis", which states:


"The preferred approach to health risk assessment in evaluating specific risks of exposure to Legionella from water systems is to develop a water safety plan (WSP), which provides a detailed and systematic assessment and prioritization of hazards, and operational monitoring of barriers and control measures".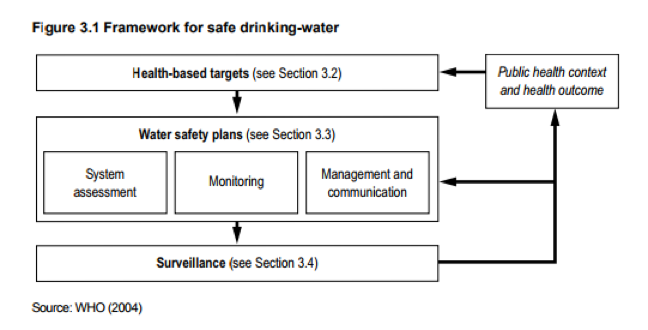 HTM04-01: Safe water in healthcare premises
Since then the initiative has gained popularity and in 2016 the principle was fully incorporated into the latest Department of Health guidelines for healthcare "HTM04-01: Safe water in healthcare premises".


The HTM defines the WSP as:
"A risk-management approach to the safety of water that establishes good practices in local water distribution and supply. It will identify potential hazards, consider practical aspects, and detail appropriate control measures."


HTM04-01 Part B (paragraph 6.21) identifies 15 elements that a WSP should contain, including a clinical risk assessment to identify those settings where patients are at significant risk from waterborne pathogens and an engineering and bacterial risk assessment of all water systems.


When implementing this guidance, it is important that the legionella risk assessment produced is suitable and sufficient and that it covers all areas deemed necessary so that nothing is missed. The infection control, estates and facilities management teams should liaise closely to manage the risks identified.
The Water Safety Group [WSG] is a multi-disciplinary group that provides a forum in which people with a range of competencies within an organisation are brought together to share responsibility and take collective ownership for the identification of water-related hazards, assessment of risks, selection and monitoring of control measures and development of incident protocols.
If the Legionella risk assessment identifies augmented care settings then there may be an increased risk from Pseudomonas aeruginosa and other alert organisms (organisms capable of causing an outbreak of infection). In this case the Water Safety Group, in accordance with HTM04-01 Part C, should take action to control and minimise the risk.
HTM04-01 emphasises the importance of "system risk assessments" and how these form an integral part of the Water Safety Plan. The information generated by the risk assessment process should help to inform and lead the design of the risk prevention and control program. (Figure 3.)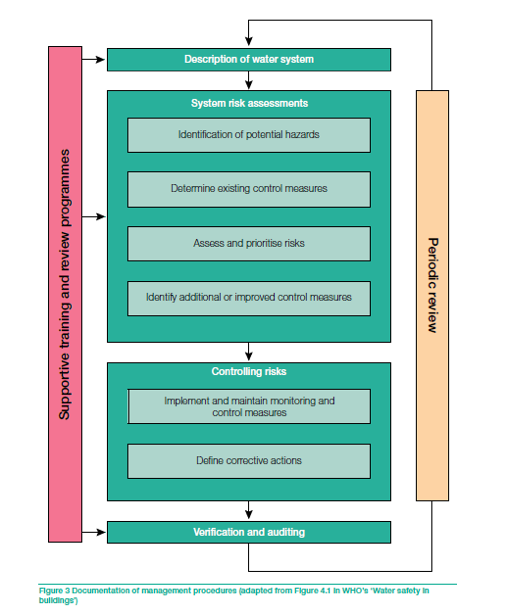 Conclusion
Assessments of clinical, engineering and bacteriological risks form an integral part of the Water Safety Plan.
The Legionella risk assessment should be considered a working document that is constantly evolving alongside a sites changing usage. Following the principle of "as low as reasonably practicable" (ALARP), residual risk should be minimised. ALARP offers a cost effective approach to risk control, ensuring that the level of risk, budget, time and other resource constraints are all considered.
The risk assessment will complement the Water Safety Plan and aid its design. For this to be successful however the risk assessment needs to be accurate, detailed and carried out by a suitably qualified and competent person.
Editors Note: The information provided in this blog is correct at date of original publication - August 2017.
© Water Hygiene Centre 2017