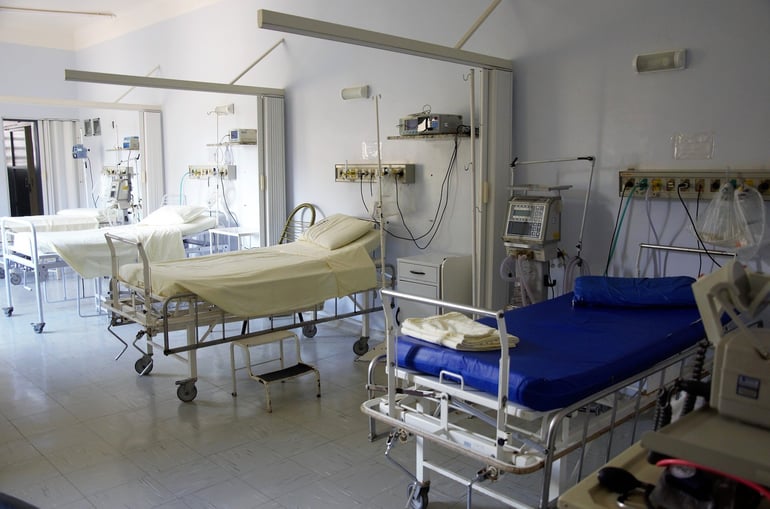 Private Finance Initiative (PFI) was implemented for the first time in 1992 and was limited in its use until 1997 when the NHS (Private Finance) Act was passed. Extensive use on large hospital projects followed, other variants of PFI include Private Partnerships (PPP), LIFT and Building Schools for the Future. There are currently around 127 healthcare-related PFI schemes in England, the number of LIFT projects built and managed under LIFT is not known.
Relationships
A PFI scheme is made up of the following parts:
A holding company sometimes called the special purpose vehicle (SPV). It is usually a consortium of private sector investors comprising of construction company, service providers and a bank;


A capital equipment or infrastructure provision company. The construction company who will employ a number of specialist contractors. The provision of medical equipment maybe a standalone contract;


Services operating company.
A 'Project Co' is established to manage the PFI contract this is independent of the healthcare organisation, service providers and construction company.
After construction is complete a number of contractors will be employed in hard and soft FM services to operate and maintain the building.
PFI in operation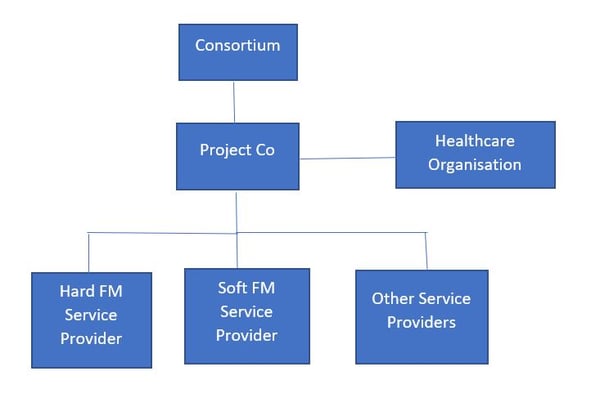 Each service provider has a contract based on the original output specification to operate and maintain the building and the associated engineering services and to implement the lifecycle plant and service replacement as set out in the contract.
Management of Water Safety
Under a PFI contract service providers are required to comply with the requirements of legislation, approved codes of practice and Hospital Technical Memoranda [HTMs], this includes water safety.
Project Co manages the day-to-day management of the service providers. In addition, Project Co manage the implementation of the lifecycle plan and fund. Project Co usually provide the healthcare organisation with a monthly report on the performance of the building and the support services. Penalties may be imposed by the organisation if service performance does no match the contract requirements.
HTM 00 [2014] states "Healthcare organisations should ensure that where facilities are provided under a PFI arrangement, clear understanding exists on the role and duties carried out by each party." Across all PFI schemes this statement is likely to be interpreted in different ways.
Furthermore, HTM 04-01 Part B states "Where estates and facilities provider services are part of a contract (including PFI), it is essential that these providers participate fully in all those aspects of estate and facilities management that can affect patients. This includes responding to specific requests from the infection prevention and control team and the water safety group, which may be in addition to relevant guidance and documentation."
Where a water safety group has been established, representatives from the PFI service providers should attend. They are usually required to produce reports demonstrating the level of compliance with regards to water safety and hygiene and to report any incidents that have affected, or may have affected, water quality.
Service providers may appoint their own Authorising Engineer [Water] or enter into a joint appointment with the healthcare organisation. The service provider must ensure there are clear lines of responsibility including Designated Person, Responsible Persons, Authorised Person and Competent Persons.
The development & implementation of a water safety plan is a joint effort by the healthcare organisation and the service providers. As part of this plan, the service provider undertakes to carry out a full risk assessment of the water systems and address any remedial actions. The healthcare organisation as part of its governance arrangements will ensure that an Authorising Engineer [water] is appointed to undertake a water safety audit, usually on an annual basis.
Conclusion
It is accepted the PFI environment is heavily dominated by the contractual conditions which can make for difficult relationships between the healthcare organisation and service providers. The successful management of water safety and all other operations is based on cooperation and trust ensuring that the patient is at the centre of what we all do.
Editors Note: The information provided in this blog is correct at date of original publication - August 2019.
Image by Silas Camargo Silão from Pixabay
© Water Hygiene Centre 2019