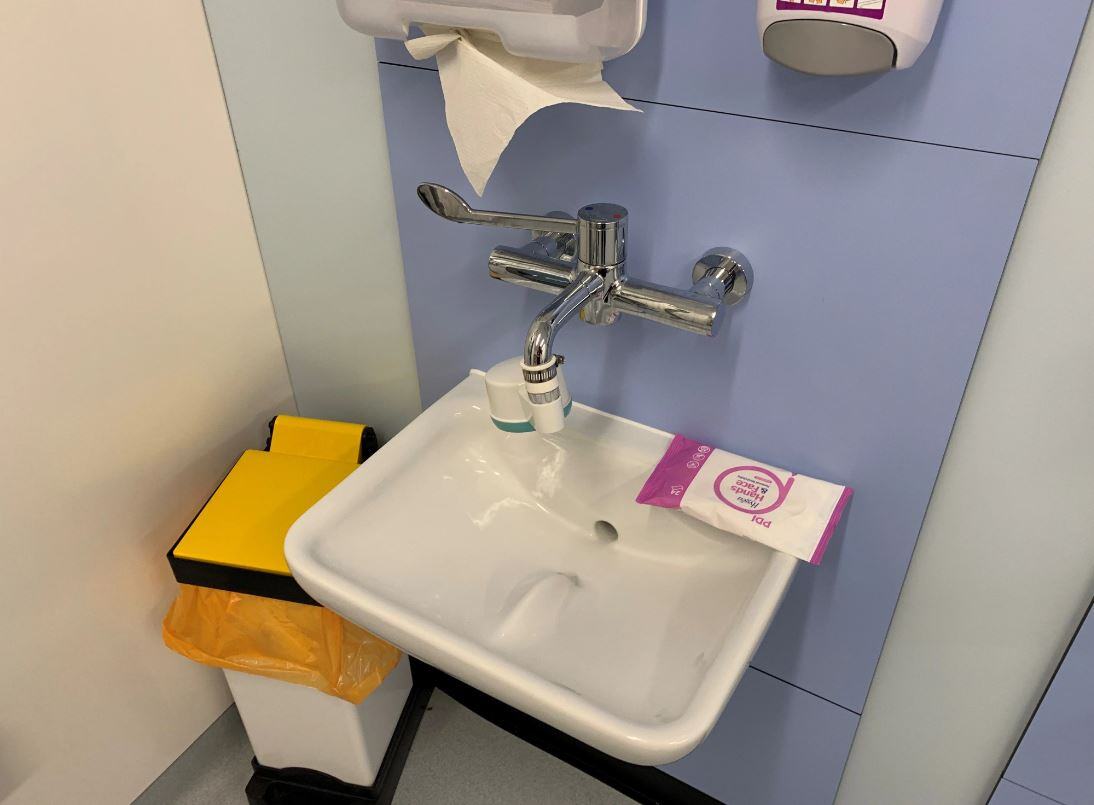 Sampling for Legionella should be routinely carried out as indicated by your Legionella risk assessment. A sampling plan can then be created. BS8554 and BS7592-2022 Sampling for Legionella bacteria in water systems Code of practice give guidance and comprehensive direction on how to create an effective sampling plan.
Legionella Incident Investigation: Introduction
The sampling programme should reflect the overarching water safety plan to manage water safety and prevent water quality from deteriorating chemically and microbiologically. The water safety plan should include the identification of all potential hazards, chemical, physical and biological.
Why are water samples taken?
Water samples may be taken for a variety of reasons, for example:
Ensuring water quality falls within the target ranges of acceptability for both microbiological and chemical parameters defined by regulations and/or guidelines;


Checking water quality, including the microbiological and/or chemical composition of water entering and distributed within a building system or to an item of equipment;


Determining whether current microbiological control or water treatment measures are effective;


Investigating a case(s) of illness associated with water use or consumption;


Investigating the causes of scaling, fouling or corrosion;


Validating a new or altered control regime;


Confirming the effectiveness of cleaning and disinfection, e.g., following commissioning and re-commissioning of water systems, storage cisterns and/or equipment using water; and


Checking water quality following known problems or incidents, e.g., disinfectant residuals.
How to handle positive Legionella results
When we receive our laboratory results, we will, on occasion, have positive Legionella sample results. These may be single or isolated positive results which indicate that contamination is local, or we may have more than one positive result or a cluster of positive results.
Every water system is of different design/installation and has different attributes such as what is the area used for, who occupies those areas and who is potentially at risk from unwanted waterborne pathogens such as Legionella. Each occasion should be considered on its own merits, considering these factors.
So how do we address this?
HTM04-01 Part B Section 10.1 shows what action is recommended depending on the levels, shown as cfu/L detected for a Healthcare environment.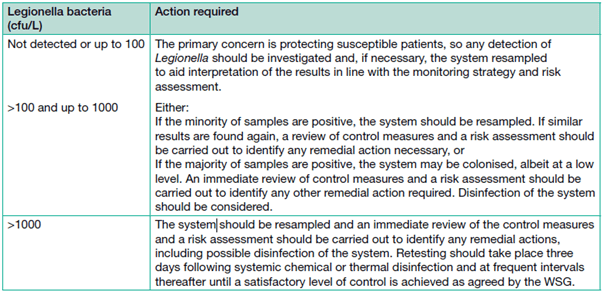 HSG274 Part 2 Table 2.2 shows recommended action levels.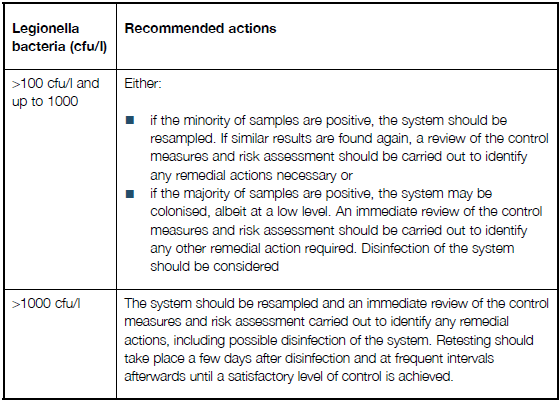 HSG274 Part 2 Table 2.3 Actions to be taken following legionella sampling in hot and cold-water systems in healthcare premises with susceptible patients.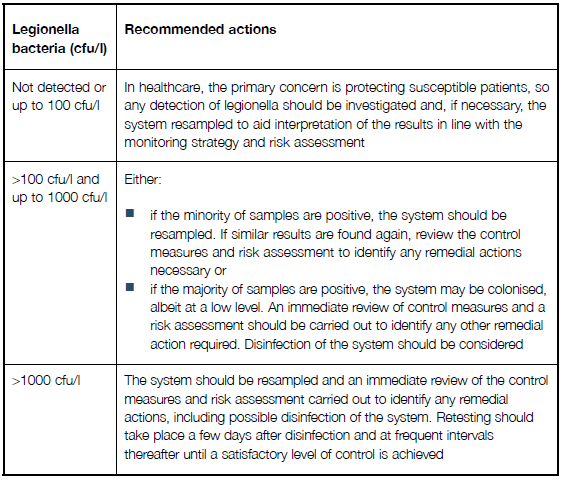 Other considerations
What do we need to do to identify the root cause?
When investigating the root cause of a positive Legionella sample result, we need to look at the following to build a picture of the conditions and environment that have led to Legionella being detected.
Are the current control measures still effective?


Are hot and cold-water temperatures within recommended parameters? i.e.
- <20 Deg c for Cold water at the outlet within 2 minutes, and stored < 20 Deg c.
- Hot water >50 Deg c (55 Deg c in healthcare) at the outlet within 1-minute,
- Hot water to be stored at > 60 Deg c.


Is the Legionella risk assessment current and accurate?


Are there any outstanding recommendations from the Legionella risk assessment that haven't been addressed?


If secondary control measures such as ClO2 generation is installed, is it operating correctly as designed?


Has there been any changes to the system by way of refurbishment/construction works? If so, were these carried out correctly about design control and commissioning?


Are the schematics accurate and up to date?



The above list is not exhaustive but indicates the factors that need to be considered when trying to identify a source or cause of contamination.
The Authorised or Responsible Person should also seek advice and guidance from other subject matter experts from within their organisation and Water Safety Group such as the Authorising Engineer (Water) and where applicable the IPC lead to formulate an effective remediation plan to prevent such instances from re-occurring.
Conclusion
Studies have shown that the following criteria are instrumental in nearly all incidents of Legionella.
Process failure. Equipment failure. Human error and unmanaged external changes;


Water safety plan: Improper implementation. Inadequate content or no Water Safety Plan in place;


Source: Plumbed devices. Personnel error. Building design error.
Due to the complexity of hot and cold-water distribution systems, a positive Legionella sample result will inevitably be returned at some point from routine sampling. A robust water safety plan must be agreed and implemented to effectively manage these systems and negate as far as possible the conditions that allow waterborne bacteria and pathogens to become established and multiply.
For more information about Water Hygiene Centre and our independent advisory services click here.


Editors Note: The information provided in this blog is correct at the date of original publication – October 2022.
© Water Hygiene Centre 2022