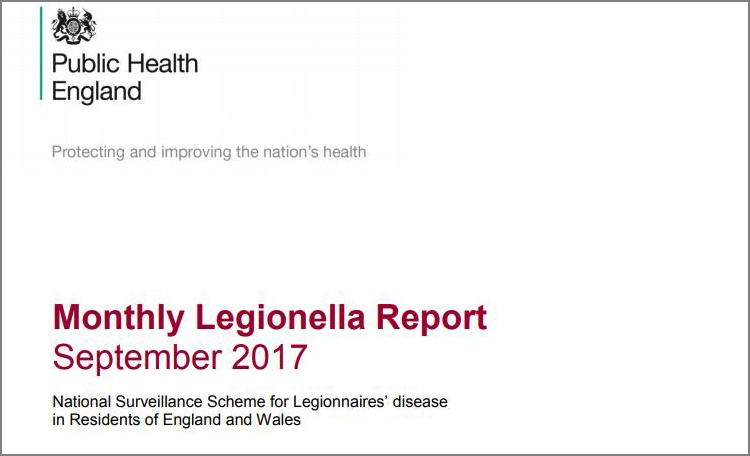 According to the most recent surveillance data (accurate as of the 14th of October 2017) reported by Public Health England – detailing the number of Legionnaires' Disease cases reported and confirmed to date, a total of 77 cases were reported in the month of September 2017, which means that 522 cases of Legionnaires' Disease have been reported in total since January 2017. Therefore 26 more cases have already been reported compared to the whole of 2016 (496 cases reported between 1st January 2016 and 31st December 2016).
| | |
| --- | --- |
| Number of reported/notified cases of Legionnaires' disease during September 2017 | 77 |
| Number of reported/notified cases of LD since 01 January 2017 | 522 |
Of the 522 cases reported thus far, 306 have been 'confirmed' as Legionnaire Disease, with 32 cases being confirmed in September 2017. Although 1 less case has been confirmed year on year – for the month of Sept (Sept 2016 = 33 cases confirmed versus Sept 2017 = 32 cases respectively), a total of 71 more cases have been confirmed year on year (Sept 2016 = 235 versus Sept 2017 = 306 respectively), with a quarter of the results still to be reported (Oct-Dec 2017…).
| | | | | |
| --- | --- | --- | --- | --- |
| Category | Confirmed cases with onset in September 2016 | Confirmed cases with onset since January 2016 | Confirmed cases with onset since January 2017 | Confirmed cases with onset in September 2017 |
| Community | 20 | 123 | 10 | 123 |
| Nosocomial | 0 | 4 | 0 | 3 |
| Travel abroad | 12 | 88 | 19 | 148 |
| Travel UK | 1 | 19 | 2 | 31 |
| Unassigned | 0 | 1 | 1 | 1 |
| Total | 33 | 235 | 32 | 306 |
Whilst it's unequivocal that our surveillance measures are continually improving, thus helping to accurately identify more cases of the disease, this also identifies that more work can still be done to mitigate the risk of people being infected by harmful Legionella bacteria – causal to the development of Legionnaires Disease. The Health and Safety Executive (HSE) consider Legionnaires' Disease to be a 'preventable disease' and as such, Duty Holders and Responsible Persons (RP's) have legal responsibility and accountability to ensure that occupiers of their premises are suitably protected against waterborne pathogens such as Legionella. Failure to do so may be considered a breach of health and safety law (under the Health and Safety at Work etc Act 1974), which may lead to organisations receiving formal improvement notices from the HSE – to suitably address non-conformances with their estate (possible best case scenario…). However, if individuals contract Legionnaires Disease from a poorly managed water system, then the organisations or those in charge of these systems, may receive a financial penalty or even imprisonment – should a negligence claim be successful and it's beyond all reasonable doubt that the root-cause of the problem is the water system.
The surveillance results to date and year-on-year comparison of these results, still identify that the majority of confirmed Legionnaires Disease cases are associated with Travel or from being Community-acquired, whilst the number of hospital-acquired (nosocomial) cases remain comparatively low. This isn't to say that the nosocomial statistics are good, as the small number of confirmed cases obviously highlight a loss of control within certain health estates and one must also consider that mortality rates are ~3 times higher with nosocomial Legionnaires Disease than with any other source (≥30%)! As previously discussed, ultimately Legionnaires Disease is considered 'preventable', so even 1 case is 1 too many!! It's important to report such surveillance data to the established WSG – as a point of information, as this continues to remind members of the importance of water safety - as it pertains to Legionella management and moreover, the potential consequences of poor water management in this regard.
ACoP L8 and HSG274 Part 2 offer very prescriptive guidance on how to suitably manage potable water systems and as such can be used to help shape your water safety plan and policy when coupled with the professional services offered by authorising engineers (AE). AE's can be commissioned to complete a wide range of water safety services including but not limited to; water safety plans and policy, risk assessment reviews, health and safety training, staff appraisals - when auditing competencies and therefore can form an integral (but fully independent) part of the communications pathway within an organisation, thus serving as critical support where the suitable management of waterborne bacteria is concerned.
Editors Note: The information provided in this blog is correct at date of original publication - November 2017.
© Water Hygiene Centre 2019