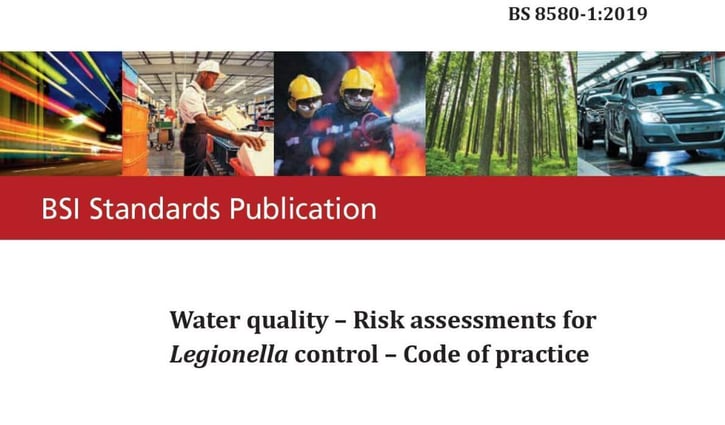 Image credit: BSI
In January 2019, BSI Standards Limited released the new, updated 'BS 8580-1:2019 Water Quality – Risk Assessments for Legionella Control – Code of Practice'. This blog is designed to help the duty holder, employer, responsible person or purchaser of Legionella risk assessments understand what the standard is and what features your risk assessment should include, it is neither a critique nor a summary of its content.
BS8580-1:2019 Purpose
BS 8580-1:2019 is a code of practice in the form of guidance and recommendations. It does not specify how to conduct a Legionella Risk Assessment (LRA) – it is not a methodology. However, it does suggest some expected features of such risk assessments. So be wary of any LRA that claims "compliance" with the standard, likewise it should not be used as a specification document i.e. in a tender.
Both BS 8580-1:2019 and the HSE's HSG274 Part 2 document detail what an LRA should include, however, neither supply a "shiny badge" to acknowledge that it actually does. To help ensure quality, there are independent accreditation organisations like UKAS, who do use these documents as criteria when accrediting LRA's to ISO 17020.


Below are a few of the features that BS 8580-1:2019 recommends including:

Legionella Risk Assessor Competence
Has your LRA provider supplied competence evidence for their risk assessor?There are many qualifications and training courses for risk assessors to complete, however a good start would be to ask for your providers Legionella Control Association membership certificate and/or their UKAS Accreditation certificate to ISO 17020.
Independent and Impartial
Has your LRA provider demonstrated their independence and impartiality?
If your LRA provider offers follow up remedial works, have they supplied evidence supporting their recommendation? Be wary of the LRA providers with vested interest, is their quote too good to be true? UKAS Accreditation to ISO 17020 ensures that safeguards are in place at these company's and that their LRA's are carried out impartially.


Desktop Appraisal
Has your LRA provider asked to view your water safety plan, your logbooks and current risk assessment?


Viewing the water safety plan will give the assessor an understanding of the systems being assessed and how well they are being managed. An LRA is not a condition survey of physical assets but an assessment of risk from all activities relating to Legionella.


Logbooks give an assessor valuable data on the recent performance of your water systems and the effectiveness of the controls in place.


An LRA should not include a written scheme of control, only to recommended improvements that will be critical to its review. Neither should it include superfluous information such as extracts from guidance documents, for example, the background/history of Legionella bacteria or pasted checklists from HSG274 of systems irrelevant to the systems assessed.

Legionella Risk
Each LRA method will have its own way of determining risk and its perceived rating. Each risk should have its own rating, which in turn has its own recommendation to eliminate or control this risk. The recommendations should be prioritised by risk (not by cost or difficulty to fix), allowing the user to allocate resources appropriately and implement the control scheme effectively. It is important that risk rating systems should not be over-complicated, as important issues can get masked and "lost".

Inherent Risk
An LRA should consider inherent risk, the controls in place to mitigate this risk and determine if this residual risk is as low as reasonably practicable (ALARP). Inherent risks will help the user understand where problems will occur if the control scheme fails. It can also help to separate expensive remediation from simpler performance and condition related tasks.

Risk Factors
Associating each risk to its corresponding risk factor (contamination, amplification, transmission, exposure or susceptibility of individuals exposed) can help the user understand the Legionella chain of causation. Some factors are easier to influence than others, so using these factors can help the user 'control the controllable'.


Further Reading: Read more about what is a legionella risk assessment, Mistakes to Avoid and Frequency >
For more information about Water Hygiene Centre and our independent advisory services click here.

Editors Note: The information provided in this blog is correct at date of original publication - March 2019.
© Water Hygiene Centre 2019