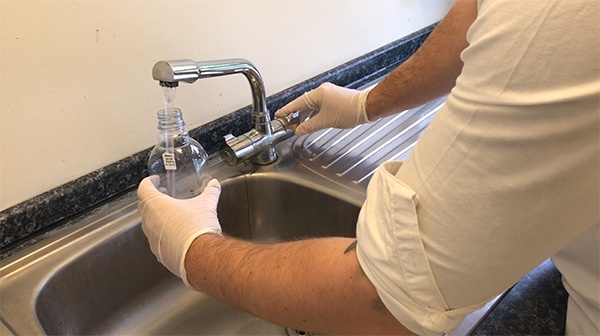 Last week we looked at the planning process required before any samples are taken. This week we get down to the 'nuts and bolts' of bottle filling.
Sampling Technique
Our headline belies the importance of good sampling techniques. As with poor planning, poor execution can also undermine the entire sampling exercise.


With so many possibilities, such as a single pillar, monoblock, thermostatic mixing valves (TMV), sequential mixer, blending taps, showers, outlets etc. your water sampling technique will vary depending on the type of outlet sampled and specific methodologies described (as per standards such as BS8554:2015 and BS7592: 2022).


Single Pillar & Monoblock (non-TMV) Outlets - Hot and cold supply should be sampled separately. Moreover, sampling blended water - from a mixer tap not comprising a TMV is not indicated.


Thermostatic Mixing Valve (TMV) Taps- When sampling from a TMV blended tap; water samples should be obtained from the outlet with the outlet lever set to the 'mid-point'. NOTE; With a fail-safe TMV, the sampler has no control over the dispensed water temperature as this is controlled by the TMV itself. It is impossible to obtain a sample comprising solely hot water, as some cold water is blended into the hot water to reduce temperature and prevent scalding.



Showers - Consideration should be given to ensuring shower waters are captured accurately and safely (when systems are contaminated with aquatic pathogens), as such food-grade bags may be used to funnel water into the sampling container whilst minimising the dissemination of aerosolised water droplets.


Sampling should be completed by a suitably trained individual, this may be your in-house 'competent person' or an appointed contractor. With either individual, you should ensure they are competent to take samples i.e. where is the evidence they have been trained. The individual should have received suitable microbiological sampling, such as Legionella training, to ensure samples are taken aseptically and with no occurrence of contamination when sampling.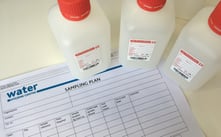 When filling sample containers it is important to use bottles dosed with sufficient sodium thiosulphate pentahydrate (STP), to neutralise any residual chlorine (or copper/silver) that may have been collected in the sample. Failure to do this may result in the receipt of false negative test results - as residual chlorine may continue to disinfect the water sample whilst in transit to the laboratory.
It is also a recommendation that samples from (chlorine) disinfected water systems should be taken no sooner than two days and no later than seven days after disinfection (HSG274 Part 2 paragraph 2.132). This ensures that the samples taken are an accurate representation of the water system and not a confirmation of biocide strength.
When to take Pre or Post-Flush Samples?
To determine the need for pre or post-flush water samples, consideration must also be given to the part of the water system in question: BS7592:2022 section 7.4.1 gives definitive guidance.
"For routine monitoring purposes, only pre-flush samples should be taken and, where possible, these should be taken from unmixed outlets. Pre-flush samples should be taken with no disinfection or adjustment of devices or inserts to obtain a reflection of the water as it is used.

NOTE 1: Post-flush samples are not suitable for routine monitoring.
NOTE 2 Pre-flush samples allow for the determination of the colonization of a particular outlet. This is the type of sample that is most representative of the risk to individuals and is the only sample necessary…
Whenever possible, when post-flush samples are required, these should be collected from individual taps rather than mixer taps so that the samples are representative of the water flowing around the system and do not just contain localized contamination of the outlet(s)."
Section 7.1.5 says: "NOTE: A post-flush sample without disinfection is water collected after water has been run to waste for a prescribed length of time or until a particular endpoint has been reached (e.g. a temperature measurement). Any legionellae in this type of post-lush sample could be derived either from the outlet itself or from the water supplied to the outlet.
These samples are not recommended due to the difficulty of interpreting results."
In the case of Pseudomonas aeruginosa, only pre-flush samples should be collected from compliant or previously unaffected systems – following the requirements of HTM 04-01 Part B – Appendix D.


How should you store and transport your water samples?
Once water samples have been collected, these samples must be handled, stored and transported appropriately with consideration for the differing requirements of the microorganisms of interest.


Legionella samples - While steps can be taken to minimize the risks of changes in the microbiological characteristics of samples, samples should be analysed as soon as practicable, preferably within 24 h but not more than 48 h of the sample being collected. If sample analysis cannot be commenced within 48 h of collection, the client should be advised of this and the possible effects on sample results.



Pseudomonas samples – if they cannot be processed by the laboratory within 2 hoursof being taken they should be refrigerated and should be processed by the laboratory within 24 hours to ensure the samples remain reliable.


Any deviation from these prescribed storage & transportation criteria may impact the accuracy of the result being reported by the laboratory.
Chain of Custody
The 'chain of custody' associated with water samples for microbiological analyses must be understood - to ensure that all samples are suitably received and processed by the test laboratory and that the results reported by the laboratory are correctly cross-referenced to the outlets sampled.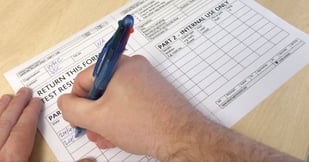 Chain of custody, therefore, refers to the paperwork trail to be completed on the water samples sent to the laboratory. Upon request, UKAS-accredited laboratories will provide such paperwork in advance, so that sampling points/locations identified in the organisational sampling plan can be entered into this paperwork along with details of the microbiological test(s) to be completed by the laboratory.
Once the paperwork has been prepared, all that remains to do is to update the fields with such details as time of sampling, the temperature of sample etc.
A copy of this paperwork should be retained, and a copy must accompany the samples sent to the laboratory so that they can be booked onto their system and processed within the correct timeframe.
The benefit of using a clear chain of custody paperwork is that this minimises the need to capture lots of information on the sample bottle(s). Therefore, sample bottles can simply be labelled with a unique identification number sequence and 'legibly' cross-referenced against the supporting paperwork.
Next Time…
Upon successful receipt of the samples, the test laboratory will take responsibility for the chain of custody and in Part 3, we discuss the various microbiological diagnostics that can be used for the analysis of water samples – including 'traditional' microbiological tests, rapid (molecular) diagnostics and the merits and limitations of both.
NB – For any doubt about sampling and technique the reader should refer to the cited guidance and standards documents. This blog is intended to provide a brief explanation and NOT detailed instruction.
For more information about Water Hygiene Centre and our independent advisory services click here.


Editors Note: The information provided in this blog is correct at the date of original publication – December 2022.
© Water Hygiene Centre 2022