Following our recent blog 'Top Five Ways to Tackle Legionnaires' Disease in Hotels & other Tourist Accommodation', we look at the prevalence on Legionnaires' disease in the hotel industry and the underlying reasons for the increasing number of travel related cases.
As we approach the summer, our thoughts often turn to sunnier climes, whether in the UK, Europe or further afield and where we will spend our well-earned annual leave. Having decided on the location of choice, our hotel accommodation is often the next decision to be made. However, what is also apparent, based on current clinical surveillance data, is that Legionnaires' disease [LD] is often associated with travel and staying in hotels, despite the best efforts of both international and governmental authorities and the hotel operators themselves.
Cases of Legionnaires' disease are reported annually by the European Centre for Disease Prevention and Control [ECDC]. The report details the data relating to travel-associated cases of Legionnaires' Disease [TALD] from within the European Legionnaires' Disease Surveillance Network [ELDSNet]. Legionnaires' disease cases related to hotels have been shown to contribute significantly to the total number of TALD cases.
The 2017 and latest report indicated that Legionnaires' disease remains 'an uncommon and mainly sporadic respiratory infection' with a notification of only 1.8 per 100,000 population within EU/EEA countries. But, it also highlighted that notification rates of Legionnaires' disease have increased continually since 2013 [30% between 2016 and 2017] and France, Germany, Italy and Spain accounted for approx. 70% of all notified cases. Men aged 65 and above were the most affected group. In 2018 of the 532 confirmed case of Legionnaires' disease in England and Wales, 11% were related to travel in the UK and 35% related to travel abroad - broadly half of all the cases.
Definition
'A travel associated Legionnaires' disease case is defined as an Legionnaires' disease case where travel (or associated) accommodation is the possible source and the case stayed there overnight or visited at any time during the 2 to 10 days prior to onset of symptoms' Public Health England
Why hotels remain a Legionnaires' disease risk in 2019
Hotels, [including cruise ships, camp sites and other accommodation], often have old and complex water systems. In addition to hot and cold water system, these may include air conditioning systems, water features, ice machines, swimming pools [indoor & outdoor], spa-pools and not least, cooling towers. All require systematic maintenance and operation.

Hotels welcome new guests on a daily basis and should Legionella bacteria be present in the water system, this continual influx of new guests increases the number of people potentially impacted.

With people living longer than ever before, there are a greater number of older guests in hotels these days, certainly including those with underlying medical conditions, who may be immunocompromised, perhaps smokers or those simply intent on enjoying their old age.

Many of the occupants of the hotels, due to having little or no awareness of the potential risks, may not seek or have access to sufficiently timely and or appropriate medical care. As we know early diagnosis and treatment can be critical in determining the outcome of the disease.

Seasonal hotel operation has also been found to be a major contributory factor where controls measures are not applied consistently all year around. These must be applied systematically particularly during the warmer months of the year. This includes managing risks relating to the often mentioned 'infrequently used outlet'. Even the best hotels do not have full occupation all year round and certain rooms may in fact only be occupied when the hotel is operating near 100% capacity. Seasonal fluctuations and the avoidance of low water turnover and any accompanying stagnation, are a key risk minimisation strategy.

Hotels owners and managers operate in a very competitive and customer focused environment. Ensuring compliance matters are routinely dealt with may not always be their highest priority, despite their best efforts. This may very well include issues relating to inadequate water systems management, a lack of training or poor communication.

Many large hotels [as oppose to smaller properties] provide a hospitable environment for Legionella bacteria due to the extensive network of pipework – of which the large surface area, potential variation in temperatures and extensive biofilm accumulation aid bacterial growth.
Academic studies relating to 'Legionella contamination in hot water systems' and 'Risk factors for contamination in hotel water systems' in Italy and Greece respectively over a decade ago, confirmed Legionella colonisation remains significantly evident in the hotel sector. To a large extent as tourists or business travellers, we are heavily reliant on our hotel managers' having an appropriate management system in place and being diligent in its application.
The ECDC when considering what can be done as a manager of tourist accommodation to avoid Legionnaires' disease infections among guests, have since provided a 15 point plan for reducing the risk from Legionella. But, whether most of us, as either a regular or infrequent occupant of hotel rooms are at significant risk, that remains difficult to quantify.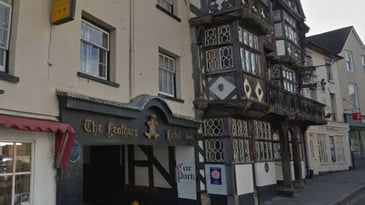 The upward trend in reported Legionnaires' disease cases in the UK, including those at The Feathers Hotel in Ludlow and the Ramada Park Hotel and Spa in Wolverhampton both in 2018, remind all hoteliers that they must continue to focus on minimising Legionnaires' disease risks. Whilst the eradication of Legionnaires' disease remains an unrealistic goal, it is important we persist in our quest to minimise risk as far as is reasonably practicable. Many of the simple and effective methods of mitigating risk can be found within last week's blog 'Top Five Ways to Tackle Legionnaires' Disease in Hotels & other Tourist Accommodation'.
In summary, we may ask ourselves if we have learnt our lesson since the mid 1970's when Legionnaires' disease first came into public consciousness? Simply put, despite the wealth of straightforward health & safety advice both from regulators such as the Health and Safety Executive, learned societies and other hotel industry bodies, this largely avoidable disease continues to be a concern for hotel managers, property owners and occupiers alike.
Read more about legionella in hotels here>
How successful is your water safety management? Water Hygiene Centre can help
Editors Note: The information provided in this blog is correct at date of original publication - May 2019.
Image by Michelle Maria from Pixabay
© Water Hygiene Centre 2019
.