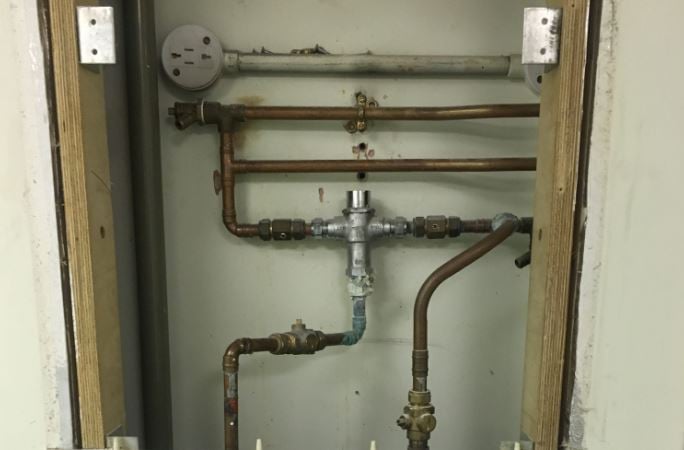 In this blog we will discuss; what TMVs are, why they are required, when they should be indicated for use and the risks associated with their use or non-use…
What is a TMV?
A thermostatic mixing valve (TMV) is a mechanical device used to blend hot and cold water to a temperature which mitigates scald risk. The Department of Health's publication HTM 04-01 Supplement – Performance specification D 08 thermostatic mixing valves (healthcare premises) indicates that blended water temperatures should be between 38˚C and 46˚C at the point of discharge; the actual temperature depends whether the outlet is a bidet, a shower, a wash hand basin or a bath.


However, whilst the risk of scalding is mitigated within this temperature range, there is a microbiological risk associated with the use of TMVs because waterborne bacteria such as Pseudomonas aeruginosa and Legionella propagate at temperatures between 20-45˚C. It's therefore important that we consider the prudent use of TMVs in accordance with the applicable standards and guidance notes to manage both inherent and actual risk and the associated cost (health-related as well as monetary).
When should a TMV be used?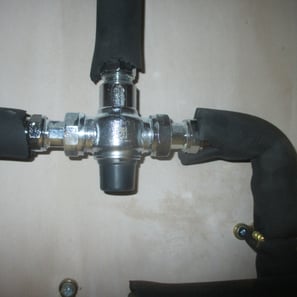 Designers & managers of water systems should adopt a multifactorial approach in deciding where to install a TMV. The decision process should be supported by the completion of a scald risk assessment. Suitable scald risk assessments will ultimately be underpinned by Health Services Information Sheet No 6, published by the Health and Safety Executive (HSE), which clearly explains the risks within health and social care premises associated with hot water (bathing and showering) and hot surfaces (radiators/pipes). The guidance also identifies the populations that are most vulnerable to injury from such risk systems, as follows:


Children

Older people

People with reduced mental capacity, mobility or temperature sensitivity

People who cannot react appropriately or quickly enough to prevent injury


Having established our 'at risk' groups, it's now important that we consider how blended water is likely to be used within the estate and the likelihood of at-risk groups requiring the use of blended water. TMV installations should therefore be very much situation-specific and not installed indiscriminately throughout estates.
For example, installing a TMV or TMV-tap within a patient bathroom area (supported by the aforementioned demographic) would be considered acceptable, whereas installing a TMV within a 'utility area' (sluice, staff kitchen etc) would not be indicated.


From a health and safety perspective (underpinned by; the Health and Safety at Work etc Act (HSWA) 1974 (section 3), Management of Health and Safety at Work Regulations (MHSWR – regulation 3) and Provision and Use of Work Equipment Regulations (PUWER) 1998) 'high-risk' temperatures in relation to causing harm/serious injury are determined by exposure time and as such can be compartmentalised into two categories:


Hot water temperatures greater than 44˚C are considered a high risk and following full body immersion (bathing and showering) such temperatures have been associated with serious scalds and have led to fatalities, such as:
Similarly, hot surface temperatures greater than 43˚C are considered high risk. 'Prolonged exposure' is a particular concern within areas that are not continually supervised such as bedrooms and bathrooms and may occur due to individuals falling, being unable to move or getting trapped by furniture.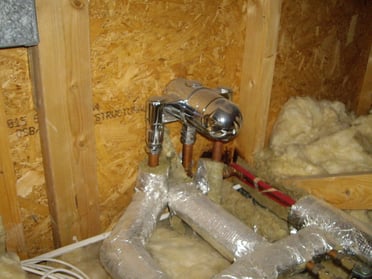 It's therefore imperative that preventative measures are taken to mitigate scald & burn risks. Suitable measures may include insulating pipework, installing pipework behind panelling and ensuring that the correct type of TMV is selected for use. For example, where a high risk of scalding has been identified, then a 'Type 3' TMV fitting should be used – comprising an automatic failsafe which isolates the hot supply in the event of cold water supply failure.
Conclusion
In summary, TMVs use should be targeted and substantiated by the findings of a suitable and sufficient scalding risk assessment. Conversely, should it not be possible to justify an existing TMV installation then consideration should be given to removing the valves concerned to reduce the microbiological risk within the estate.
Each TMV that is installed should be included within a planned preventative maintenance programme that meets the requirements of the HSG274 Technical Guidance, Part 2, Table 2.1 [image below], so that the actual risk is managed.




The maintenance programme should be designed to ensure that these systems are; adequately cleaned and free from particulate matter that could inhibit the correct function of the valve and/or provide a medium for biofilm bacteria to propagate.
If you have questions regarding the issues raised above or you would like to speak with one of our consultants please click here to get in touch.
Editors Note: The information provided in this blog is correct at date of original publication - July 2019.
© Water Hygiene Centre 2019