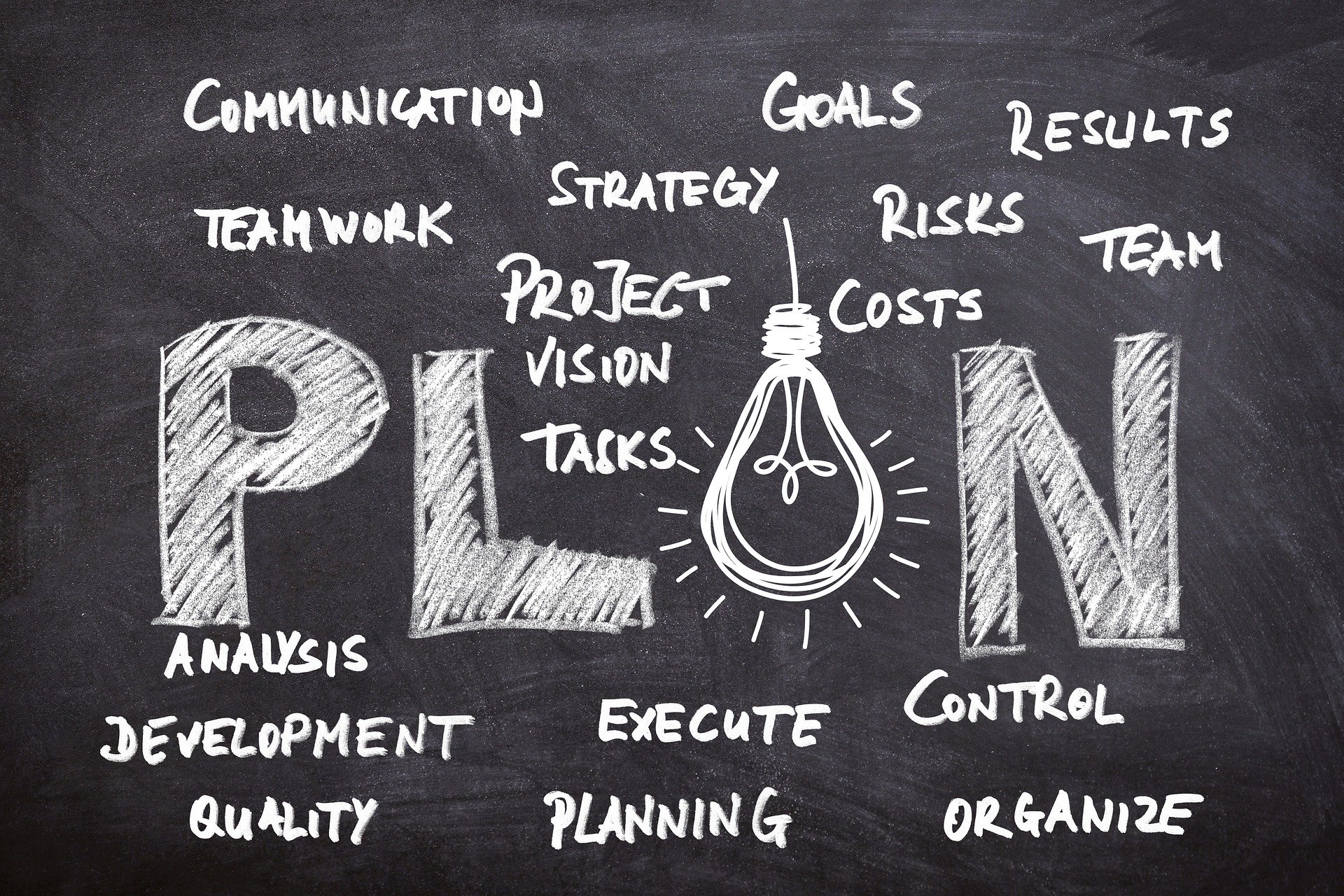 The single most important aspect of good water hygiene management is having a 'plan', hence the expression; 'fail to plan, then plan to fail'!
Legionnaires' Disease - Technical Guidance
The guidance notes detailed in ACoP L8, HSG274 Parts 1, 2 & 3 can help you to shape your 'plan' to ensure that the 'Requirements' of what to include are included!
What are these requirements? These can be found in appendix 2.2 of HSG274 Part 2, namely:
'This appendix summarises the information to include in a legionella written control scheme, ie:
Purpose;


Acope;



Management structure:

Dutyholder;

Responsible person(s) and communication pathways;

allocation of responsibilities, ie to the dutyholder, responsible person(s) and water treatment service provider;



Up-to-date schematic plan showing the layout of the system(s) and its location within and around the premises – this should identify piping routes, storage and header tanks, calorifiers and relevant items of plant, especially water softeners, filters, strainers, pumps and all water outlets;


The correct and safe operation of the system;


Precautions in place to prevent or minimise risk associated with the system;


Analytical tests, including microbiological testing, other operational checks, inspections and calibrations to be carried out, their frequency and any resulting corrective actions;


Remedial action to be taken in the event that the scheme is shown not to be effective, including control scheme reviews and any modifications made;


Health and safety information, including details on storage, handling, use and disposal of any chemicals used in both the treatment of the system and testing of the system water;



Incident plan, which covers the following situations:

Major plant failure, eg chemical system failure;

Very high levels or repeat positive water analyses for legionella;

An outbreak of legionellosis, suspected or confirmed as being centred at the site;

An outbreak of legionellosis, the exact source of which has yet to be confirmed, but which is believed to be centred in an area which includes the site'.
The requirements of what to include in your 'plan' are very specific and may appear very daunting to try to construct / piece together.
Preparing your plan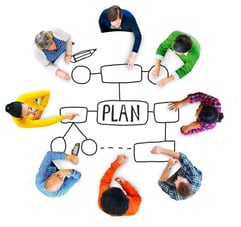 A helpful hint on how to start preparing your 'plan' is to break it down in to manageable 'chunks'. When drafting a 'plan' for a client, we have compartmentalised into x4 core 'chunks' or documents:
Management policy;


Legionella risk assessment & schematics;


Operational management;



Water Hygiene Records / Log books.
Management Policy:
Owned by the Responsible Person [Water], this document establishes a baseline on how 'Legionella risk' will be managed through the organisation. The 'policy' has a defined 'scope' and 'purpose', it should also identify those individuals with key roles and their responsibilities for the delivery of safe water and the maintenance of safe systems. When thinking of these individuals you need to identify who interacts with who and how, so drawing out a 'communications pathway'.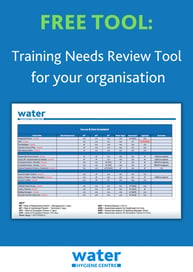 For those individuals there needs to be degree of training and a measure of competence, the 'policy' should define what is needed and how it is achieved. To establish a 'training needs analysis' document/matrix, which can be used to track/monitor staff members' training records and identify when training may be due for renewal.
Where an Authorising Engineer [Water] is retained by the organisation they have to appraise the Responsible Person [Water] and Deputy Responsible Person [Water] / Authorised Person [Water].
These individuals identified with their roles and responsibilities defined are invariable going to be members of the Water Safety Group [WSG]. The WSG should be defined in the 'policy' through a Terms of Reference [ToR]. The remit of the WSG should be detailed [further details on the remit can be found in HTM 04-01 Part B chapter 6].
Legionella Risk Assessments:
The risk assessment process is of principal importance as this will essentially draft the blueprint for managing risk and inform the 'plan'. The Legionella risk assessment should be completed by a suitably qualified and experienced individual who has no vested interest in the provision of additional services i.e. completion of remedial work associated with the recommendations of the risk assessment.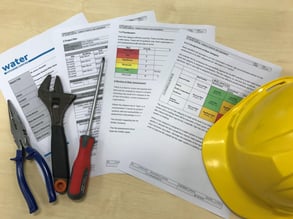 The risk assessment should be completed in accordance with BS8580-1:2019 - Water Quality. Risk assessments for Legionella control, reviewing the Legionella Control Association member list will help identify an organisation who can undertake risk assessments, currently there are over 300 members who can assist. To help 'filter' down to a more manageable selection of suitable providers, look to UKAS accreditation to ISO17020 for risk assessment, of which there are only a handful of accredited organisations. Looking at UKAS accreditation will assist with ensuring competence and impartiality.
Outputs from the risk assessment include a risk assessment report [which includes all the risk systems and asset types], a risk minimisation scheme and schematic drawings.



Operational Management:
How each of the risk systems and asset types will be designed, operated, monitored and maintained.


Thinking of the 'design' stage it is about 'getting it right at the start', as such defining design preferences will help shape future installations. The operated and monitored element explains for each of the risk systems and asset types the criteria of control i.e. if temperature, what are the parameters to be achieved, and how and when they are to be monitored.
It is essential that the 'Operational Management' document is specific to the organisation and what has been identified in the risk assessment. It is not a generic document that can be purchased i.e. it covers all types of risk systems most of which are not found in your properties i.e. if you do not have cooling towers identified in your Legionella risk assessments then your 'operational management' procedures shouldn't include detail on such a risk system.


Guidance on monitoring and the recommended frequency of checks to be taken is clearly described in HSG274 Part 2 – table 2.1.


With regards to maintenance this can include the routine and the non-routine 'incident planning' i.e. loss of water, loss of control. The monitoring and maintenance elements can then be included in to your Planned Preventative Maintenance systems. Tasks will be issued and then records of those tasks and the findings need to be recorded….
Water Hygiene Records / Log books:
In health and safety law you are guilty until you prove your innocent. Water hygiene records are essential to prove evidence of control. Records for all of the 4x elements. Those records can be paper based or electronic, either way they need to be up to date, accessible, accurate and evidence of them being reviewed. Where there is evidence of non – compliance i.e. poor temperatures or failure in alternate technology, any non – compliance needs to be investigated with an auditable trail of it having been resolved.


Summary
In summary, these x4 core sections form the backbone of good water hygiene management and essentially provide a framework for meeting and surpassing the requirements detailed in the established guidance notes and associated legislation.


It's therefore important that time and resource is suitably allocated to drafting your 'plan'. Remember; don't fail to plan, plan to succeed and remain assured that your systems are safe, well maintained and remain compliant with legal requirements, and therefore demonstrating Legionnaires' disease prevention.


Editors Note: The information provided in this blog is correct at date of original publication - July 2018.
© Water Hygiene Centre 2019
Image by Gerd Altmann from Pixabay