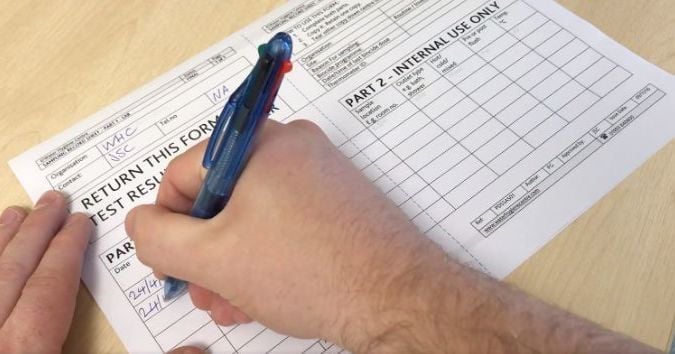 In this blog, we discuss reasons why a disinfection, sampling and flushing strategy may not have worked as intended, leaving undesirable levels of TVCs.
What are TVCs?
TVC stands for 'total viable count', a laboratory test that indicates the level of heterotrophic organisms within a sample. Heterotrophs are a large group of organisms that can be further divided into fungi, yeasts, moulds and bacteria. Therefore, the results of a TVC test may offer an indication of the 'general level' of contamination within a system.
Why sample for TVCs?
Microbiological monitoring of domestic hot and cold water supplied from the public mains is not usually required. It should be used, however, to assess the efficacy of a process, e.g. disinfection.
Disinfection is a process which removes or renders inactive pathogenic microorganisms, typically using chemical or thermal treatment methods. Hot and cold water services should be cleaned, flushed and disinfected, as specified in BS 8558:2015 and detailed in PD 855468:2015.
Disinfection is used following a new installation, alteration, or refurbishment to prove that the water is "wholesome" and fit to drink, as, during construction works, the inside of pipework and components can become contaminated and "dirty".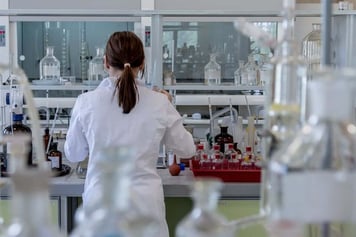 The number of heterotrophic organisms (TVCs) can indicate changes in water quality and as such, the number of these organisms is included in the Water Supply (Water Quality) Regulations as one of many 'indicator parameters'. PD 855468:2015 states that Total Viable Counts (TVCs) should be included in the post disinfection sampling plan as an assessment of water quality.
The HSE's HSG 274 Part 2 document also states microbiological samples are required to confirm effective disinfection.
In healthcare, HTM04-01 Part B also does not recommend routine microbiological monitoring for TVCs, however, in our experience, hospital Infection Control Officers and Microbiologists are becoming increasingly interested in TVC sampling and what they contain.
Required levels
At present, all reputed sources stipulate that the readings should demonstrate "no abnormal change", "i.e. measurements should show no sudden and unexpected increases as well as no significant rising trend over time." However, no recommended action levels are stated.
PD 855468:2015 describes that TVC results over a 2 log difference above that found in incoming water, remedial action should be taken, referencing the WHO's Water Safety in Buildings 2011 document.
Whatever parameters your organisation has decided to work to, must be detailed in the Water Safety Plan.
Disinfection and Sampling Methods
HSG 274 Part 2 pp.42-44 provides guidances of when and how to carry out cleaning and disinfection works referencing BS8558. Although, it is worthy of note that the BS8558:2015 revision included the British Standards 'published document' titled 'PD 855468:2015 guide to flushing and disinfection of services supplying water for domestic use within buildings' which should be referred to for the correct process.
The sampling method used, should be taken from "Examining Food, Water & Environmental Samples from Healthcare Environments Microbiological Guidelines" and although written for Legionella sampling, BS 7592 could also be followed.
But why am I still getting TVCs after disinfecting and flushing?
System disinfection and a Legionella flushing regime are traditional remedial actions to take following a positive bacteriological sample result, but, as the title of the blog suggests, this may not always work. There are several reasons why these actions may not work, the following are some tips derived from experience and previous learnings;
Disinfection Process
Did the entire system receive sufficient disinfection?
PD 855468:2015 states that "The key for sentinel outlets should be tested to ensure the required concentration is reached" – was this recorded?
PD 855468:2015 states that "all other outlets should be subjected to a fast and simple test showing the presence of absence of disinfectant" – was this recorded?


Did the TVC counts return after an initial clear result?
Both the HTM04-01 and HSG 274 capture that any microbiological samples should be taken between 2-7 days after the system has been refilled – to mitigate the risk of receiving false negative sample results.


Was the pH of the water checked and contact time adjusted to suit?
PD 855468:2015 states that the efficacy of chlorine is pH-dependent, so pH values in excess of 7.6 will require additional contact time.
Sampling Technique
Did the sampling methods follow the updated guidance?


Were the samples taken aseptically?
i.e. without touching the screw thread of the sample bottle, without touching the inside of the cap of the sample bottle and without touching the inside of the sample bottle.


Were the samples stored correctly?
Hot and cold samples to be packaged separately

in a cool, dark, insulated container, samples should be kept at 2-8°C


Did the water samples get analysed in time?
Samples are to arrive at the laboratory as soon as possible, certainly within 24 hours.


Was there a sampling plan in place?
Sampling at the correct locations for the correct indicators should be agreed upon by the W

ater Safety Group

. Guides on sampling plans are described in BS 8680, BS 7592, PD 855468, HSG 274 Part 2 and HTM04:01 Part B.

It is also important that a control sample from the incoming supply is taken so that outlet readings can be compared, as knowing what your "baseline" TVC levels are will help understand what "abnormal change" is or what should be expected. It is also important to know if high TVC levels are in the incoming water supply!
Disinfection and Sampling Timing
Was the system installation completed before disinfection and associated sampling took place?
All parts of the system should be included in the process and should not take place until all works have finished. Phased completion and occupation should be carefully managed.
Flushing Technique
Was there an outlet flushing programme in place from system completion to sampling to receiving the results to handover?
PD 855468 advocates weekly flushing (twice weekly in healthcare premises) to maintain a flow of water, in accordance with ACoP L8 and HSG 274 Part 2. During the commissioning of projects, the responsibility for the water risks lies with the contractors as defined in CDM Regulations 2015.


Were all outlets included in the flushing regime?
Don't forget the toilets! A quick way to turnover high volumes of water.


How long to run water to prevent legionella and other bacteria?
HSG 274 Part 2 advises to "Flush the outlets until the temperature at the outlet stabilises and is comparable to supply water".


HSG 274 Part 2 advises "If water turnover is anticipated to be low initially, it may be advisable not to commission certain parts of the system, such as cold water storage tanks, until the building is ready for occupation. This will ensure flushing during low use periods will draw directly on the mains supply rather than intermediate storage"
Make sure any parts of the system such as these, are commissioned correctly.
Other Physical Risks
Have all strainers and filters been emptied and cleaned during the commissioning process?


Are all the hot and cold water temperatures within the correct parameters?


Is the hot water circulation system balanced?


Has dead leg pipework been kept to a minimum?


Have dead ends been eliminated?


Was a risk assessment completed and updated during the project?


Was a Legionella Risk Assessment completed before handover?
There are many reasons why bacteria can colonise a water system, and these reasons are covered extensively in guidance documents and other Water Hygiene Centre blogs. This blog aimed to empathise the importance of correct disinfection, sampling and flushing processes following a new installation or refurbishment works, hopefully, it has helped give food for thought.
For more information about Water Hygiene Centre and our independent advisory services click here.


Editors Note: The information provided in this blog is correct at the date of original publication – August 2022.
© Water Hygiene Centre 2022